In 2016, I (Ellen Wilcox) solo-hiked the IAT East Branch route in Katahdin Woods and Waters National Monument, and ever since, I've wanted to explore the area in winter.  And so, on February 9th, my sister, Karen, and I packed up our sleds and headed out on a six-day winter adventure.  Our goal was to x-country ski and/or snowshoe the IAT route from the North Entrance of Katahdin Woods and Waters to Lunksoos Lean-to, then slackpack to the summits of Lunksoos and Deasey Mountains and return to Bowlin Camps.  As it turned out, Mother Nature had other plans for us.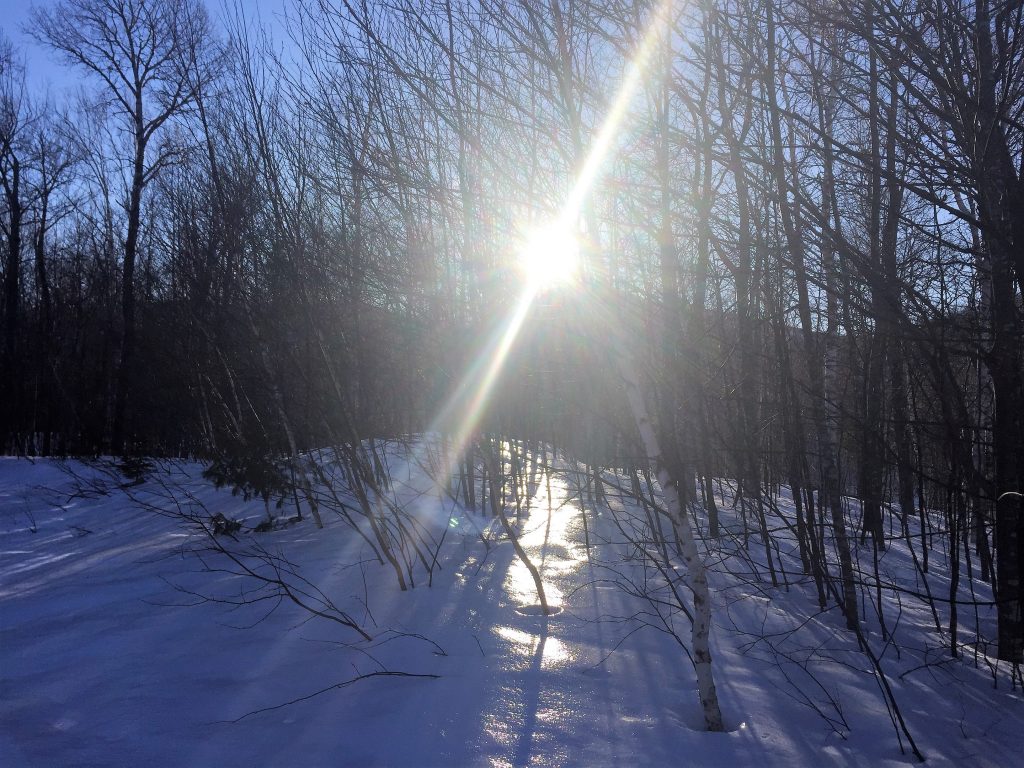 Day 1 (North Entrance to Haskell Hut):  After parking my car at Bowlin Camps, we headed out — southbound from the North Entrance of Katahdin Woods and Waters — on x-country skis, pulling our camping gear and snowshoes behind us on sleds.  The sun was low over the mountains and the snow was covered in a veneer of ice that shone in the late-afternoon sun.  It didn't take long for me to realize my skis weren't going to work on the icy groomed trail so shortly after Haskell Gate, we switched to snowshoes.  After sun set, we traveled quietly, under a dark sky filled with bright stars and a beautiful half-moon. At Haskell Hut, we were greeted by a couple from Bar Harbor who had the fire blazing and hot water on the stove.  We had an enjoyable evening.
Day 2 (Haskell Hut to Bowlin Camps):Another day of sunshine and blue skies! Shortly after Haskell Hut, the groomed trail came to an end, so we switched to snowshoes for the rest of the trek. We stopped to enjoy the view at Haskell Deadwater, then at Haskell Rock Pitch we took the IAT route along the East Branch of the Penobscot River. It was a long, hard day. We zigzagged back and forth across mud-filled streams trickling down the trail, suddenly sunk in deep sinkholes in the snow, and endlessly pulled our sleds over, under, and around downed trees with the x-country skis (which were strapped to the top of our sleds) catching on every branch and tree in our path.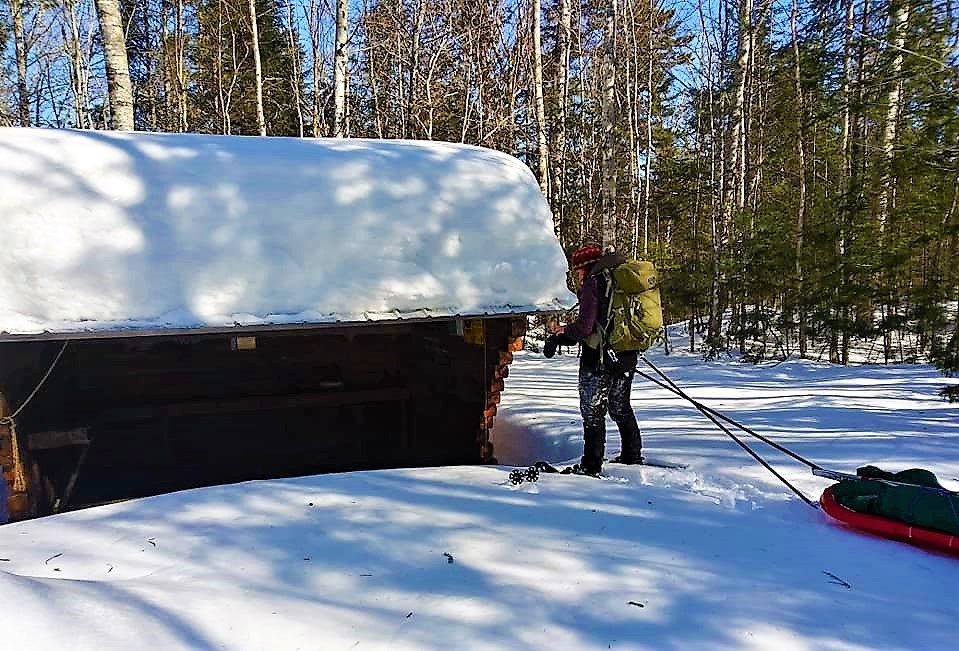 At lunch time, we crawled down into Grand Pitch Lean-to which had a 4-foot wall of snow in front of it.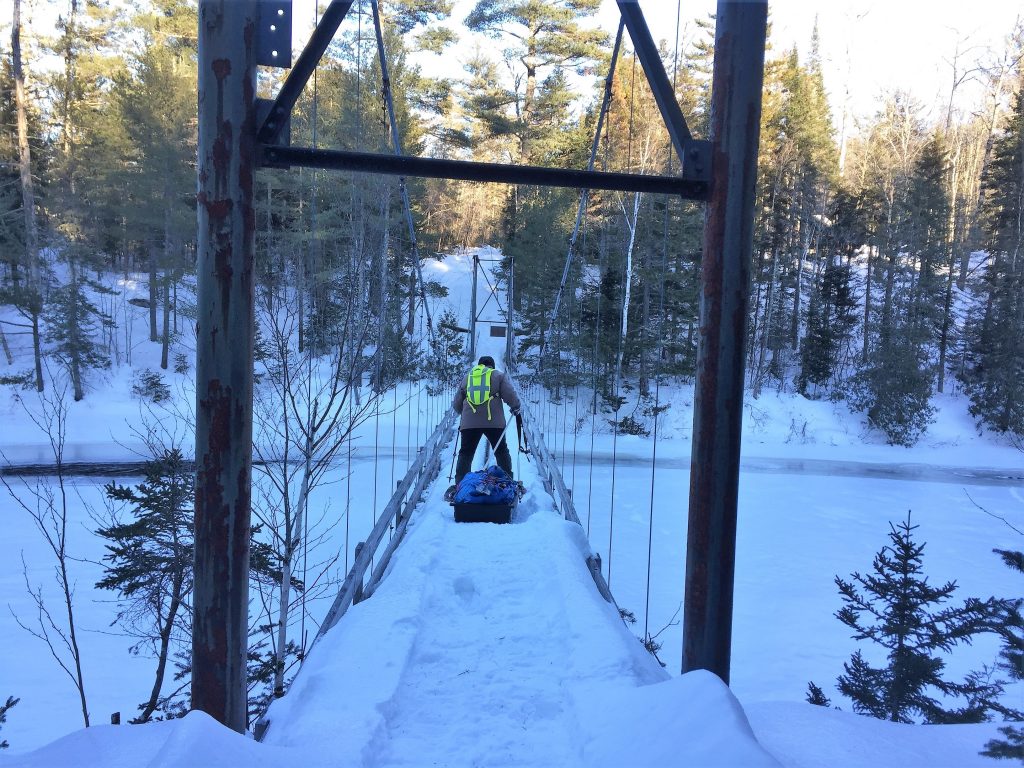 Late afternoon, we finally made it to the suspension bridge which would take us to a warm cabin at Bowlin Camps on the other side of the river.However, the snow was to the top of the guardrails which meant our sleds could roll or slide off the side of the bridge and take us with them! Big Sister went first and bravely walked across with her snowshoes on, pulling her sled behind her (I couldn't watch!).  Then I crawled across on my hands and knees, staring down at the torrential water rushing by below me – twice!  The first time, I dragged my pack and snowshoes across and the second time, I dragged my sled across with Karen's help.  We enjoyed a relaxing evening at Bowlin Camps – the hosts were fantastic, and our cabin was perfect.  Since my car was parked there, we were able to resupply and get rid of the x-country skis.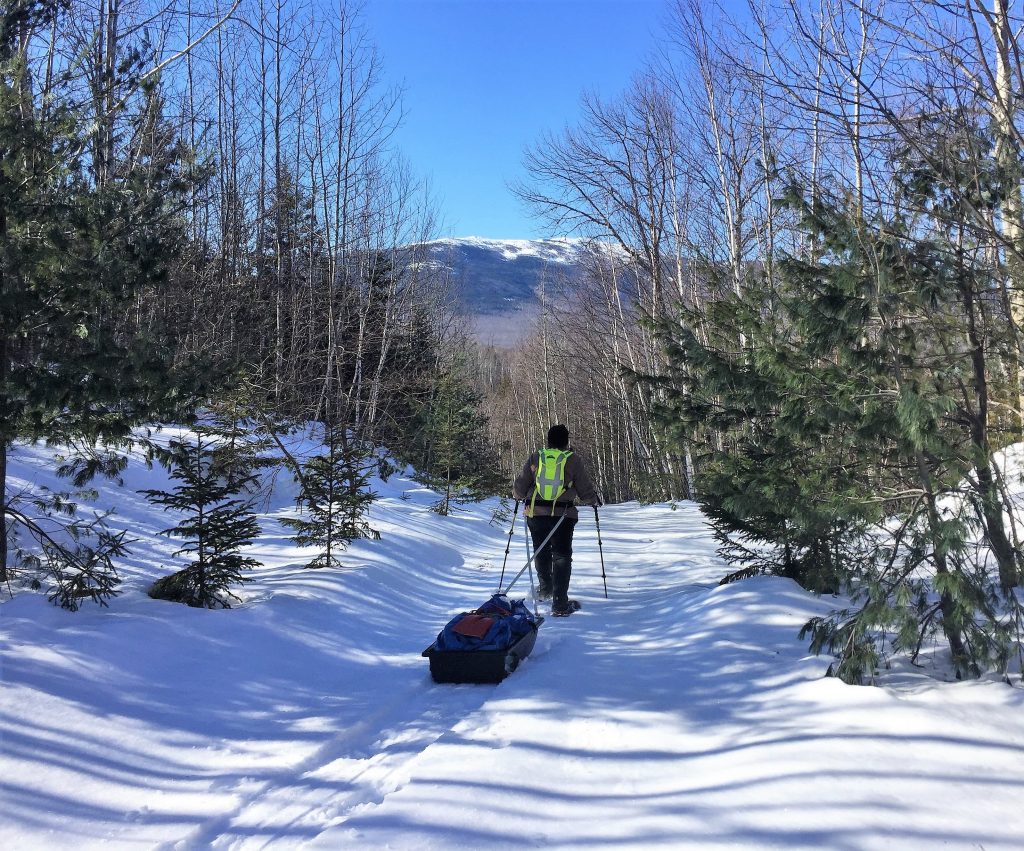 Day 3 (Bowlin Camps to Big Spring Brook Hut):  It was a beautiful day, but there was a snowstorm in the forecast, so we reluctantly abandoned our plans to snowshoe the IAT route to Lunksoos Lean-to.  Instead, we went to Big Spring Brook Hut which was only four or five miles away.  We had to cross the suspension bridge again but this time, I "boldly" crawled across in one trip.  We broke trail via the K Comp Trail, then at the intersection to Big Spring Brook Hut, we got lucky – the trail was packed down and frozen enough to walk the rest of the way in boots and crampons.  Once again, the ice-covered snow gleamed in the sunshine and views of the mountains were magnificent.  At the hut, we lit a fire, shoveled out the latrine, and settled in.  So much for roughing it!
Day 4 (The Lookout):That morning, the sun was shining so we snowshoed up to The Lookout, a 2,000-foot peak overlooking the mountains in the eastern Katahdin foothills.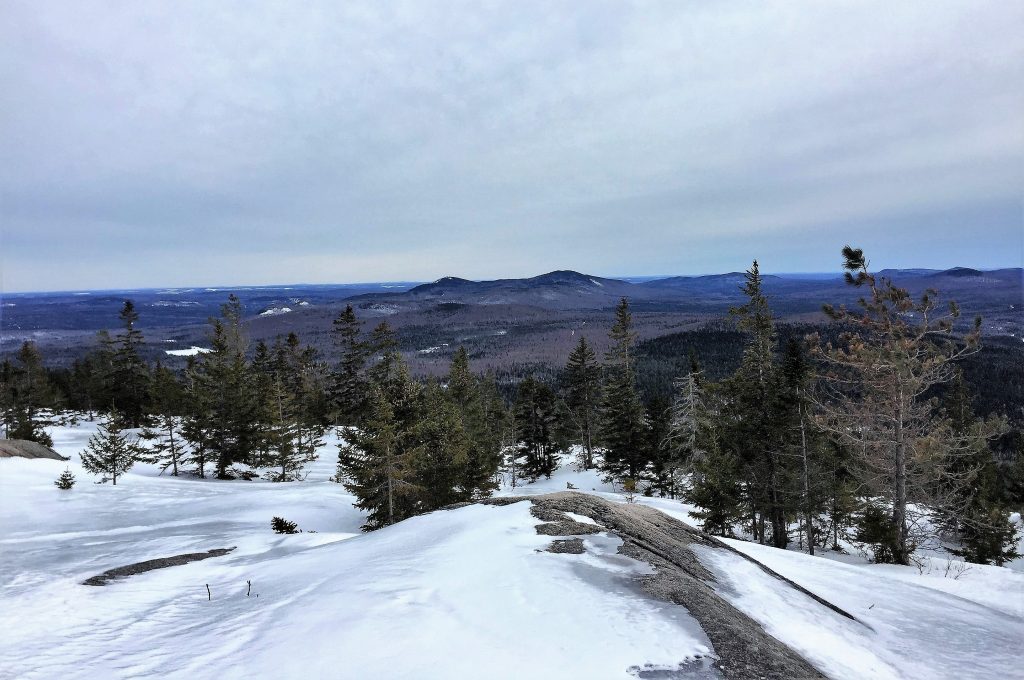 As we ascended, dark clouds rolled in and we could see the snow was moving in.  The 180-degree view from The Lookout was truly spectacular!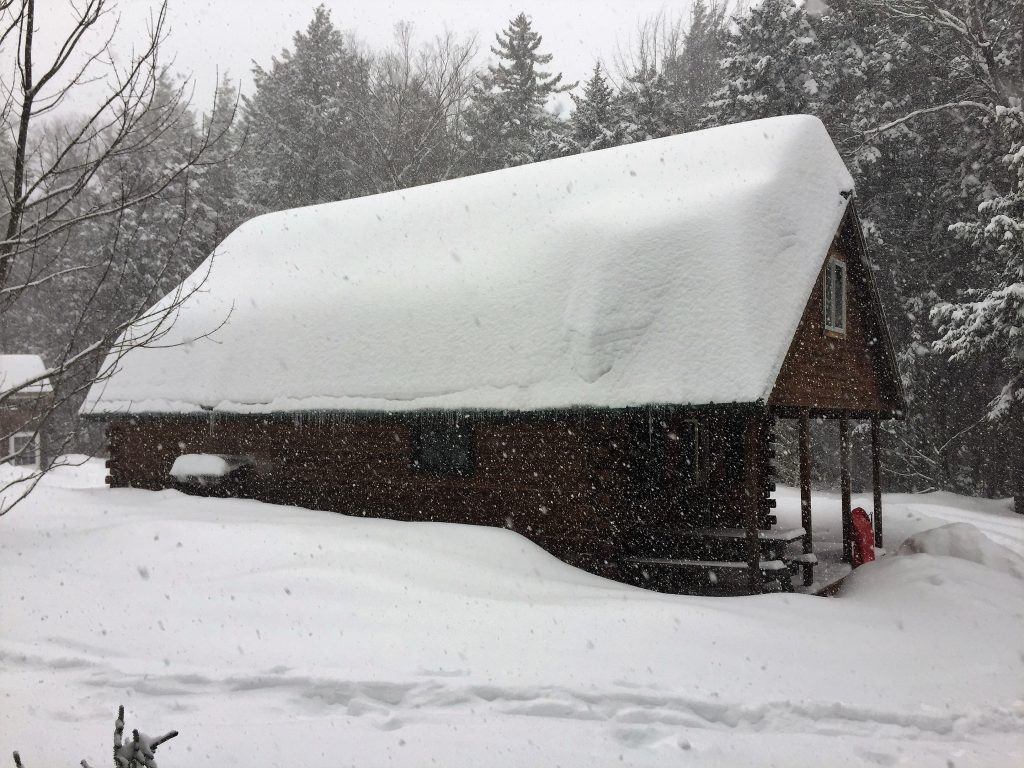 Day 5 (Snow day at Big Spring Brook Hut):  We woke up to snow and it snowed all day.  Karen worked on a jigsaw puzzle and I listened to an audiobook.  At one point, I snowshoed up the trail and attempted to toboggan down the hill on my sled, but the snow was too powdery.  Karen shoveled a path to the latrine while I brought wood in from the shed.  The hush of the falling snow and the solitude of the woods were absolute bliss!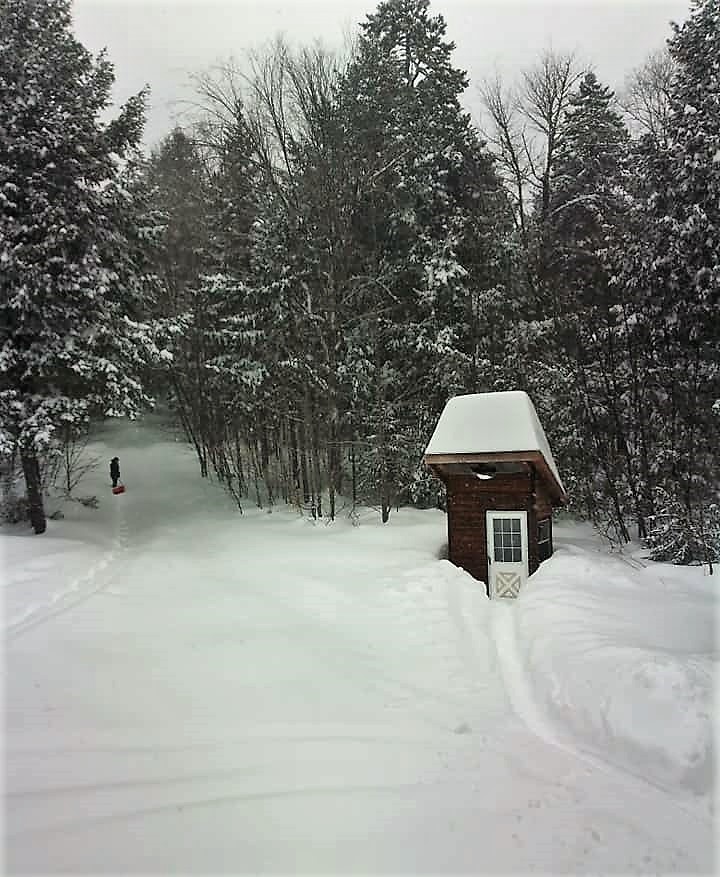 Day 6 (Big Spring Brook Hut to the North Entrance):  We woke up to blue skies, sunshine, and 17 more inches of fresh, powdery snow.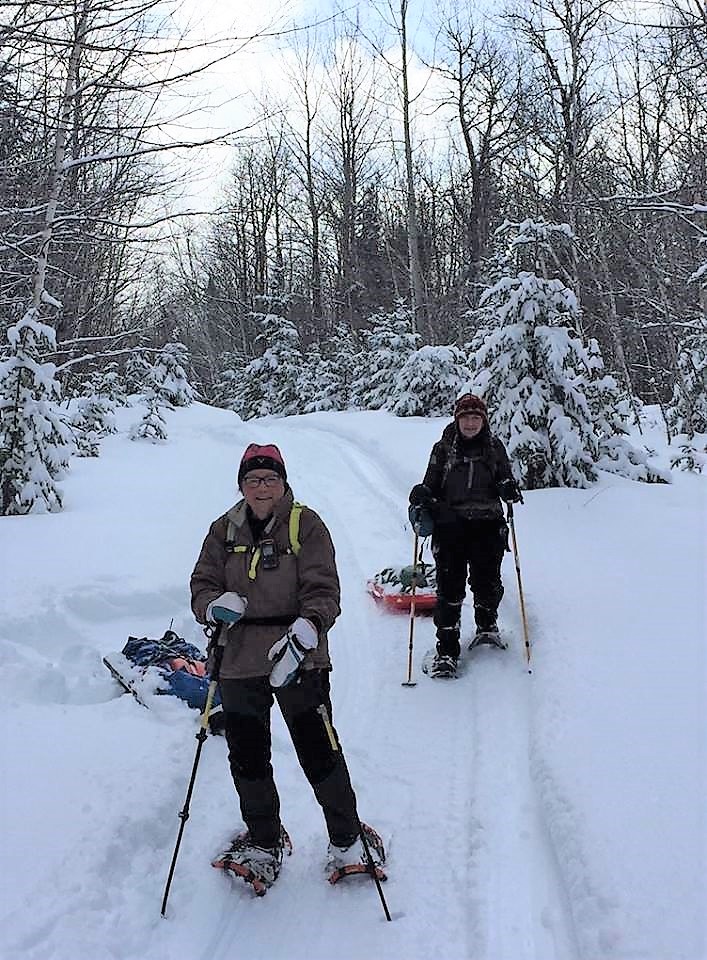 Our original plan was to snowshoe back to my car at Bowlin Camps, but the additional snow made the suspension bridge impassable, leaving us no choice but to snowshoe nine miles to Karen's car at the North Entrance.  We were resigned to breaking trail most of the day and possibly having to camp out overnight.  We'd covered only two miles in three hours when suddenly, a snowmobile came flying over the hill in front of us!  Neither of us heard it coming and the driver didn't see us, so we quickly dove into the deep snow to get ourselves and our sleds out of the way. Then another snowmobile came flying over the hill!  It was Mark and Susan, the trail groomers.  Thanks to these two amazing trail angels, we were able to snowshoe the rest of the way on groomed trails and didn't have to camp out overnight.  They even shoveled Karen's car out for us.  They also told us a group of kids from Camp Chewonki were clearing the IAT route along the river that day.  We didn't cross paths with them, but we certainly saw the results of their hard work.  Bless them all!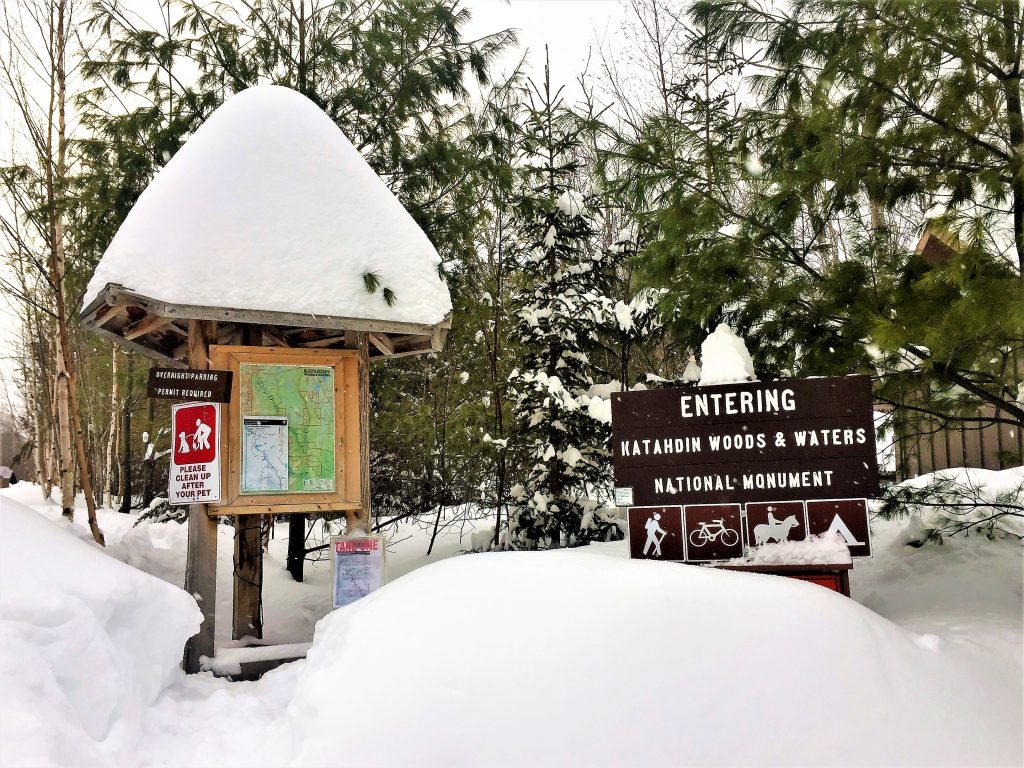 From the North Entrance, we drove to Bowlin Camps and dug my car out.We enjoyed a celebratory supper at Shin Pond Village, then Karen headed home to Augusta, and me to Nova Scotia.I so wanted my sister to see the waterfalls and pitches and had my heart set on summiting Lunksoos and Deasey Mountains in winter, but neither was meant to be.  I guess we'll just have to come back and try again next winter.