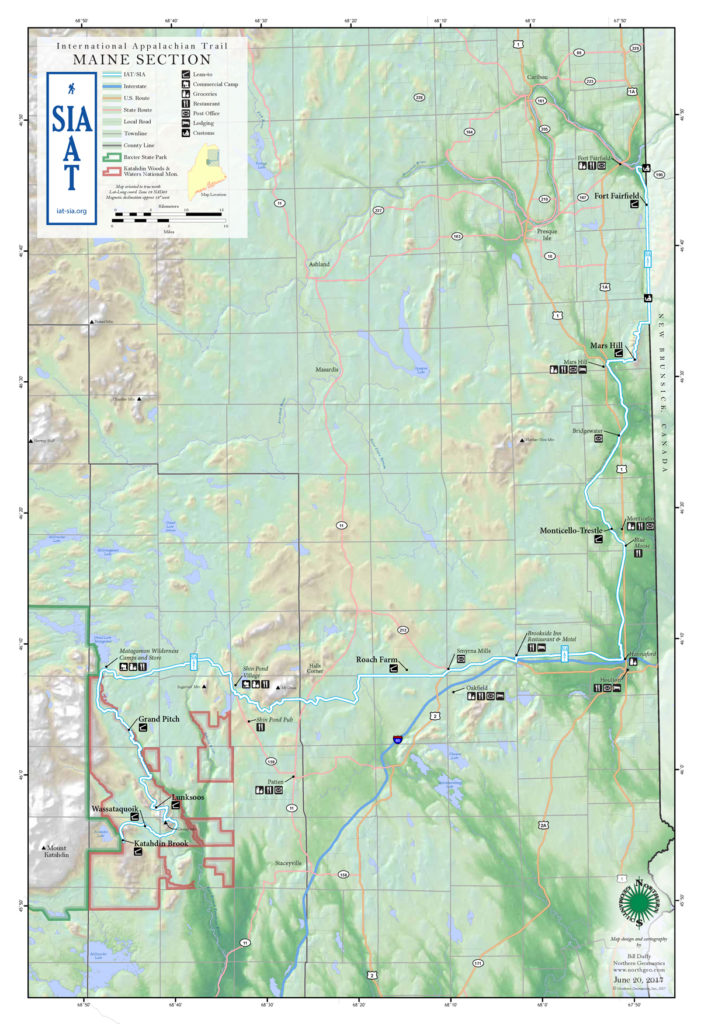 In Maine, the IAT/SIA starts (or ends) on the Katahdin Loop Road in the Katahdin Woods & Waters National Monument east of Baxter State Park (BSP) near a small parking area at the junction of the Katahdin Loop and Barnard Mtn Roads. For detailed information on accessing the starting point please see the Maine IAT Trail Guide.
From the parking area, the trail heads north and then east, passing the Katahdin Brook and Wassataquoik Lean-to in the first 4 miles. After fording Wassataquoik Stream, the IAT follows a meandering trail over Deasey and Lunksoos Mtn before reaching the Lunksoos Lean-to in the heart of the National Monument.
From the Lunksoos Lean-to the trail follows a series of overgrown logging roads north, eventually reaching the bank of the East Branch of the Penobscot River and the historic Old Telos Tote Rd. The trail continues northwest on the Tote Rd, passing several waterfalls and riverside campsites, including the Grand Pitch Lean-to, before reaching the campsite at Haskell Deadwater.
From Haskell Deadwater, the IAT heads west and away from the river, where it picks up the Messer Pond Rd and turns north once again towards Grand Lake Rd. On the Grand Lake Rd., the trail heads east to Shin Pond Village, where it picks up a series of multi-use trails that continue east, past Mt Chase and across Route 11, before turning north near the West Branch of the Mattawamkeag River towards the Townline Rd.
The IAT heads east on the Townline Rd, passing the Roach Farm Lean-to, located about 0.5 miles north of the road (see guide for details) before reaching Route 2 in Smyrna Mills. The IAT continues on Route 2 until it turns north on the Line Rd in Smyrna, shortly after crossing over Interstate 95. Immediately after crossing I-95 again on the Line Rd, the IAT turns east onto the Ludlow Rd, which it follows to Houlton.
In Houlton, the IAT heads north on the Houlton-Presque Isle Multi-use Trail, passing several small towns and the Monticello Trestle Lean-to located above the Meduxnekeag River. After reaching the town of Mars Hill, the IAT turns east towards Mars Hill Mtn., climbing to the summit ridge through a ski area. The Mars Hill lean-to is located at the south end of the ridge. The trail threads its way among 20 or so wind turbines on the wind farm access road before descending to the East Ridge Rd and turning east towards the United States/Canadian Border. On reaching the border the IAT turns north on the Border Trail. See the Maine IAT Trail Guide for information on hiking the Border Trail.
The IAT follows the United States/Canadian international border northward to Fort Fairfield where it crosses into Perth-Andover, New Brunswick.