Dick Anderson at IAT booth
All IAT Chapters were represented at the Maine Travel & Adventure Expo in Bangor , Maine on the weekend of April 1,2 and 3. The information table(see picture) was continually staffed by your team of Poul Jorgenson, Walter Anderson, Carl Lavigne and Dick Anderson. Traffic on Friday was reduced by a significant, late-season, snowstorm, but traffic was high on both Saturday and Sunday, making for a very busy weekend. It was impossible to count, but we estimated that 300-400 people visited our booth and most of them left with some of our printed materials.
We had many chances to explain the principles of our trail and the geographic distribution of the trail around the northern Atlantic Ocean. I think we interested a lot of outdoor people in the project and I feel sure that some of them will organize hiking vacations in areas through which the trail passes. The cost( about 700 USD) was shared by: New Brunswick, Maine, Quebec and Newfoundland and Labrador IAT Chapters.
Poul Jorgenson, Dick Anderson and Carl Lavigne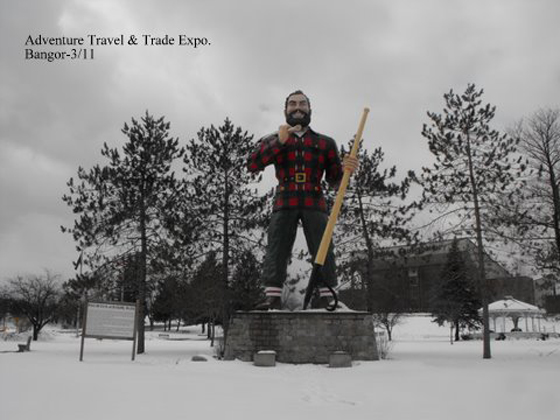 Paul Bunyan Statue