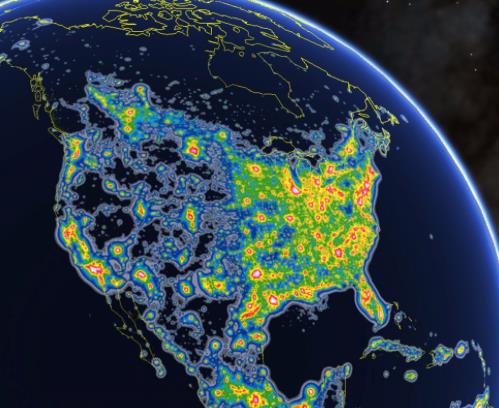 The International Appalachian Trail in Northern Maine begins in the new Katahdin Woods and Waters National Monument (KWWNM). That new Monument is in the largest area of pristine night sky east of the Mississippi River. From it we see stars that few in the eastern United States can view. The Monument's sky quality meter reading is 21.62–on a par with the remote sites selected for world-class observatories (22).
Satellite images taken at night show most of the area east of the Mississippi illuminated by light pollution (see below). The most obvious exceptions are a dark region in the middle of the Maine Woods and a smaller dark region along the coast of Maine near Acadia and Washington County. Those dark night skies are our window into the cosmos, a source of inspiration for inquiring minds, and a potential magnet for "astro tourists."
"Stars over Katahdin," the fourth annual event to celebrate the starry skies of the North Maine Woods, was held on the "Overlook" of the Loop Road in the KWWNM. Local amateur astronomers and Astro Volunteers from Acadia National Park participated. For three days those astronomers and others shared their expertise at local events:
John Meader (Northern Stars Planetarium) held five inflatable planetarium shows in local schools.Acadia National Park Ranger Michael Marion and his four Astro Volunteers visited area classrooms and chatted with children. Kelly Beatty, senior editor of Sky and Telescope Magazine and board member of the Tucson-based International Dark Sky Association, gave two presentation to local town officials and business leaders. Personal visits were made to town offices near Mt. Katahdin to raise awareness of the value of our dark sky resource and its economic potential for astro-tourism in the area. Two solar viewing telescopes were set up for public viewing at the Millinocket Trail's End Festival.
On Saturday, September 16th at KWWNM a bike and a hike event were held. In the evening, dozens of local residents attended the Campfire Chat at which the astronomers, the park ranger, ME Chapter IAT board members, and locals shared stories and magnificent views of the night sky. This was followed by telescope viewing from the "Overlook" of Saturn, star clusters within the Milky Way, and distant galaxies. Some students spent the night there in tents, courtesy of a special one-night permit. The volunteers were treated to a hearty breakfast at Lunksoos on the banks of the East Branch the following morning.
Our starry night sky is unique in the eastern United States and a resource with real value: for science education, inspiration, and environomental/astronomy tourism. And it is freely available to all. Unlike other natural resources we need not spend a dime digging it up or harvesting it. It's all there on every clear night. This is a resource that other IAT chapters might want to consider; the IAT international meeting might want to give the night sky a place on its next agenda. We might want to talk to each other about this resource. How important is it to be able to look up to see the millions of stars when camping on a clear, dark, summer night? What can we do to protect that resource from encroaching light pollution?
What individuals can do
People around the globe are losing the night sky to light pollution that is growing at about 10% each year. Only one in four of the earth's people can now see the Milky Way from where they live. This problem is entirely manmade: the result of over-lighting, poor fixture design, and the thoughtless placement/direction of lighting fixtures. Here are some things you can do:
Use only downward facing (fully shielded) outdoor light.Use only as much light as needed for security/safety, and put it only where you need it.If your town or power company is shifting to LED street lights, insist that they use luminaries of 3000 "kelvin" or less. These provide the warm hue favored by most people and are the least damaging to the night sky. 4000-5000 kelvin lights are sky killers.Encourage your community to adopt a sky-friendly outdoor lighting code. For an example, see the model code developed by the International Dark Sky Association (IDA) and the Illumination Engineering Society (www.darksky.org).
Have a friendly talk with neighbors who have upward facing lights.