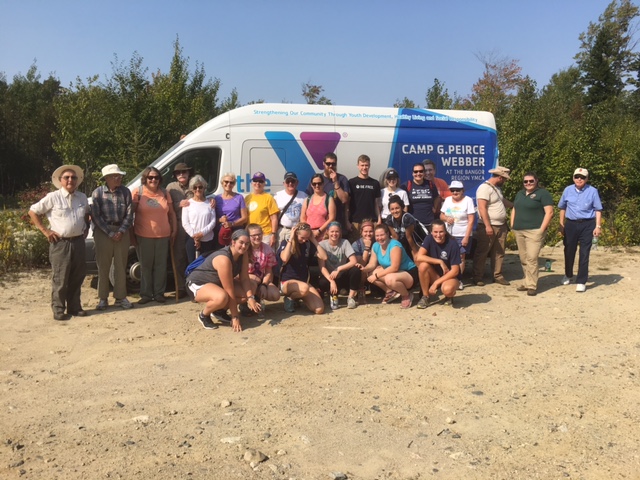 On Saturday September 16, 2017 EPI (Elliotsville Plantation, Inc) sponsored a hike along the IAT (International Appalachian Trail) to Barnard Mountain overlook. The group met at Sand Bank Campground and then travelled to the parking area on the IAT where the hike would begin.
There were twenty people who had travelled in two busses from the Bangor "Y" thanks to a National Park Foundation Transportation grant they have used for multiple excursions to the Monument over the past year. The older ten were members of a group called "second wind" and were guided by Maureen. The younger student group of ten had their own guides.
After a short introduction to the group about the KWWNM (Katahdin Woods and Waters) area, and the IAT that they were about to follow, both groups started for the overlook on Barnard Mountain.
The younger group headed directly up the IAT Trail and on to the summit while the older hikers proceed at their own pace, some of them reaching the summit. The students spent time enjoying the view from the summit and the surrounding area. They had another information session about the history of the area and the view they were seeing to the west of Katahdin Lake and Katahdin.
On the way back some of the group met two young IAT through hikers who were following the IAT into Canada and on to Gaspe, Quebec. Their trail names were SCALLYWAG & GIGGLES and they had hiked the 2000 plus mile Appalachian Trail from Georgia to Katahdin after starting in Pensacola, FL in March of this year.
It was a beautiful Maine September afternoon and a successful adventure after which both groups attended the camp fire and star viewing.