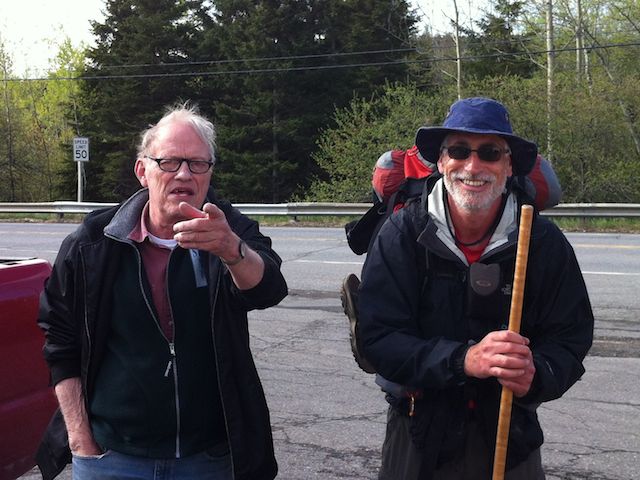 Dick Anderson with Thru Hiker, Michel Jacques
IAT thru hiker Michel Jacques, from Quebec City, happened to be on the trail south, near Shin Pond and attended our Annual meeting. Michel had sectioned-hiked the IAT from Cap Gaspe to Matapedia over the last few years. He started his 2012, southbound IAT hike at the bridge over the Restigouche River in Matapedia.
He has completed the New Brunswick section of the IATand is heading for Katahdin, to complete his IAT hike, after enjoying Thursday night social hour and dinner with the Maine Chapter members at the Shin Pond Village. While hiking in New Brunswick, he stopped to meet and talk with the Mayor of Nictau, Bill Miller. A report from Miller alerted us to the fact that he might be in the Shin Pond area at the time of our meeting, so we were looking for him.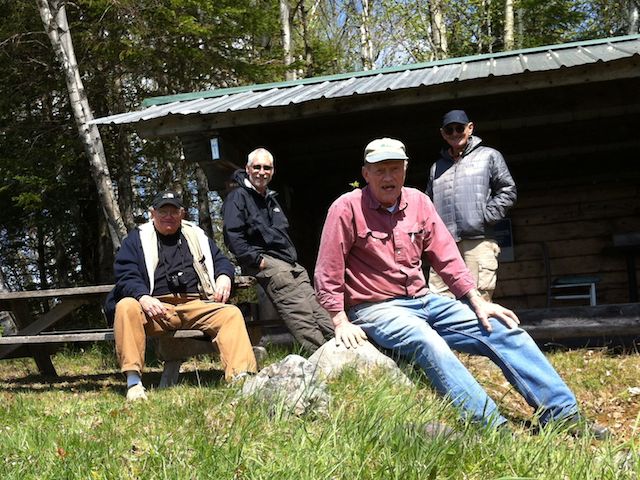 Walter Anderson, Michel Jacques, Ed Friedman and Dick Anderson at Roach Farm Campsite
After finishing his hike of the IAT –Cap Gaspe to Katahdin—Michel will be heading south on the AT for Springer Mountain.
Epilogue: Unfortunately, after leaving our meeting and hiking from Shin Pond to Baxter Park on the IAT, Michel decided that he had to leave the trail due to an injured knee. He has returned to Quebec City for treatment. He said he might return to the trail when he recovered from his injury.
Photos by Walter Anderson and Don Hudson