MAINE TO GREENLAND : Georgetown to Uummannaq
Story and all photos by Willfred E. Richard © Will Richard Photography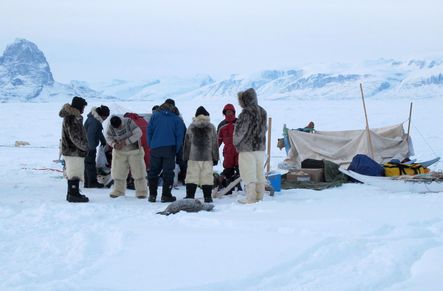 Maine Chapter Board Member, Will Richard, is visiting the area of the northernmost section of the International Appalachian Trail close to Uummannaq, Greenland, the home village of some of the Greenland Chapter's leaders. Currently, traveling to Greenland is not all that difficult – although it is not cheap. Icelandic Air will fly you from Boston to Iceland, Air Iceland will fly you from Iceland to Ilulissat in Northwest Greenland. Then, Air Greenland will fly you to the north side of the Nuussuaq Peninsula to Qaarsut and then by helicopter over the sea with icebergs floating below to Uummannaq, an island town and to seven small outlying settlements within Uummannaq Fjord.
Uummannaq is located at about 71 degrees latitude , about 300 miles north of the Arctic Circle, which is almost the same latitude as Alaska's northern-most town, Point Barrow.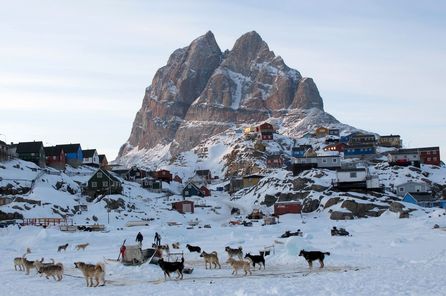 For perhaps a decade now, I have been visiting Greenland – with my wife Lindsay and sometimes solo. For much of that time, I have wanted to travel on Greenland's sea ice as I have on the ice of Canada's Inuit Territory of Nunavut. But, a major difference is that ice travel in Nunavut is almost exclusively by snowmobile and komatek (sled) and sea ice on this side of Baffin Bay has become quite limited. In Greenland, ice travel is almost exclusively by dog sledge – but that is apparently changing. In at least a half-dozen previous trips to Uummannaq Fjord, I have planned to be here when there is sea ice. But, with rising Arctic temperatures, there has been no sea ice during my visits in May, June, August, September – even in December and January.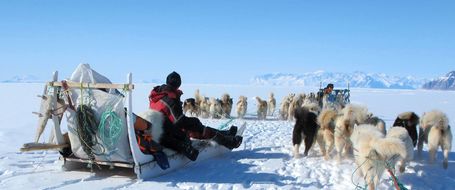 Earlier this year, our good friend and frequent visitor to Maine, René Kristiansen of the Children's Home in Uummannaq e-mailed me: this is the year for ice. So, as a Research Collaborator with the Smithsonian's Arctic Studies Center and Research Fellow with the Uummannaq Polar Institute, I am enjoying this now rare opportunity to travel by dog sledge and to enquire about climate change and implications for Greenlandic traditional culture. Faroese Islander Ann Andreasen is Director of both the Uummannaq Children's Home and of the Uummannaq Polar Institute.
And, there is another piece of this story which has definite local application in Maine. That is the International Appalachian Trail, an idea first advanced by Maine's Dick Anderson in 1994. With a sister range created in the same tectonic plate event which created the Appalachian range, Greenland's Caledonide range provides a link to the International Appalachian Trail and across the North Atlantic to Europe . In July of this year, with a party of seven, these Greenlanders will hike from Mt. Katahdin to the New Brunswick border.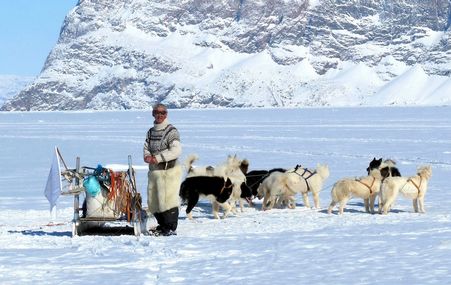 In these last few years Greenlanders have not been exactly rare visitors in Maine. A few years ago after meeting René in Uummannaq, he mentioned that a few Greenlanders may be in NYC that fall and that they may visit us in Maine. Well, with two days notice and with a two-bedroom house, Lindsay and I were visited by 14 Greenlanders. Fortunately, good friend Don Hudson and the Chewonki Foundation came to the rescue with bed and board.
Now travel is not only from Maine to Greenland but also from Greenland to Maine, establishing ties of wilderness hiking, of music and film, and friendships.