Maine Chapter board members Dick Anderson, Walter Anderson, and Don Hudson attended the 138th Annual Meeting of the
Appalachian Mountain Club
on Saturday, January 25th in Norwood, Massachusetts.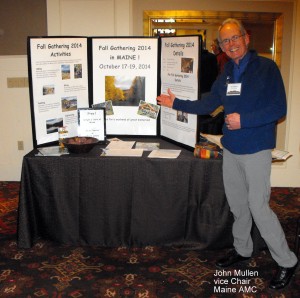 John Mullen, Vice Chair – Maine
AMC
One of the main purposes of the visit was to spread the word about the IAT in Canada and Europe. AMC membership stands at 87,000, and another 90,000 people are reached through social media and the website. That's a big market in the world of outdoor activity and adventure travel!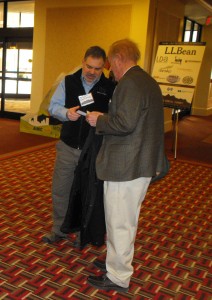 Dick Anderson, Maine Chapter Treasurer, talking with Brian Wentzell,
AMC
Regional Director for Maine
In a workshop on volunteer leadership of AMC adventure travel trips, Don handed out IAT bookmarks and spoke about contacts in the northeastern Canadian provinces, Greenland, Iceland, the Faroës and western Europe — from Scandinavia, through Ireland, Northern Ireland, Great Britain, to France, Spain and Portugal — eager to work with AMC volunteer leaders to bring people to stretches of the IAT outside of the United States.
Dick and Walter touched base with the current Executive Director, John Judge, and the former Executive Director Andy Fallender, and met the current Chair of the Board of Directors, Wayne Thornbrough.