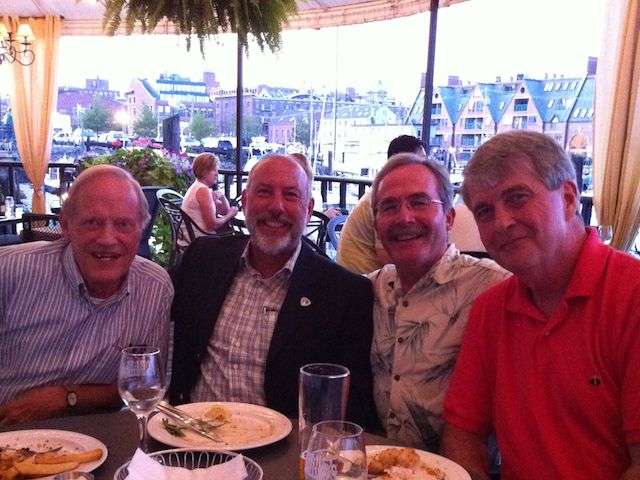 (L-R) Dick Anderson, Mark Wenger, Don Hudson, and Bill Plouffe
Maine IAT Chapter President, Don Hudson and IAT Founder/Treasurer, Dick Anderson, recently hosted a seafood dinner on the Portland, Maine waterfront for three key officials of the Appalachian Trail Conservancy (ATC). Mark Wenger, ATC Executive Director/CEO; Amy McCormick, Assistant Development Director and Bill Plouffe, ATC Board Vice-Chair.
The dinner was a great opportunity to hear about some of ATC's new programs. Don brought Mark and the others up to date on some of IAT's significant activities. The IAT's annual meeting in Iceland and the general expansion of the IAT in Europe were subjects that Don and Dick focused on.
On behalf of the Chapters of the IAT, Don invited Mark to attend and participate in the 2013 International General Meeting in Inverness, Scotland. Mark said he would like to attend and would make a firm decision as soon as a specific date had been chosen.
The dinner was a great opportunity to discuss our respective trails, strengthen friendships, and build on our long term, close working relationship with the folks at the Appalachian Trail.