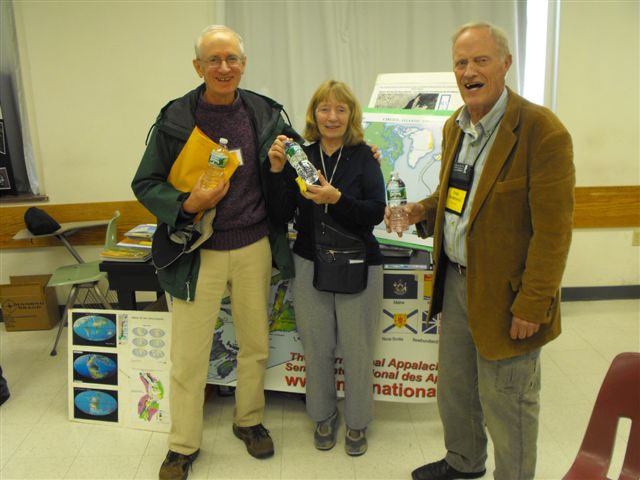 Dick Anderson with IAT thru-hikers Mary and Denis Webster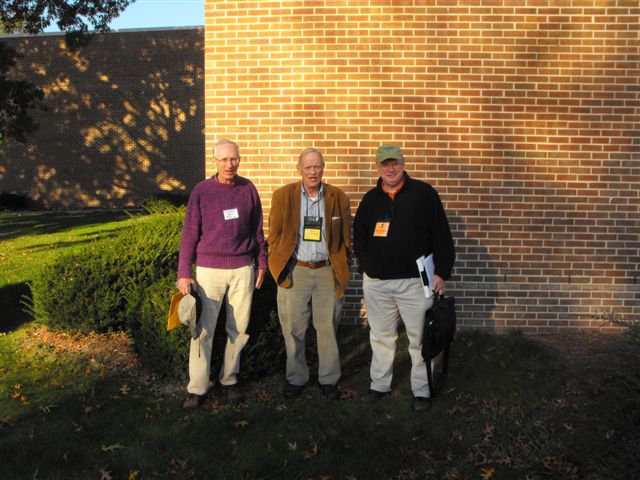 Dick Anderson with IAT thru-hiker Denis Webster (L) and Bill O'Brian (R) former ALDHA Coordinator and Coordinator for 2011 Gathering
Dick Anderson with IAT thru-hikers Joyce and Peter Cottrell "Laurel and Hardy"
Dick Anderson with past ALDHA Coordinator and IAT and ECO thru-hiker JoJo Koby-Burley
Dick Anderson and IAT Chief Geologist Walter Anderson put a couple of thousand miles on their vehicle and represented the International Appalachian Trail at the annual Gathering of the Appalachian Long Distance Hikers Association(ALDHA). The 2010 Gathering was held at Concord University in Athens, West Virginia.
They organized handouts and mounted maps and staffed an information table on Saturday and Sunday. The new map, defining the location of Appalachian domains around the North Atlantic, was the centerpiece of the information display and created lots of interest.
Two hundred , hard core, long distance hikers attended this year's Gathering. That was a significantly lower number than usual due to a scheduling issue.
Dick and Walter got to renew their friendships with legendary long distance hikers like "Baltimore Jack" ,"Mother Nature's Son", "JoJo Smiley", "Red Wolf",
"Otto", "Nomad98" , "Mama Lipton", "Wing-Hart" and many others. They also had a chance to talk with Steve Paradis, Chief Operating Officer of the Appalachian Trail Conservancy.
They gave three Power Point presentations on the IAT. Their presentations were focused on the terrains through which the trail passes in the United States and Canada. They also discussed our Chapters in Greenland and Scotland and our new Chapters in Europe. Present developments in Spain and Morocco were also addressed.
Next year's ALDHA Gathering will be held in North Adams, Massachusetts, only a couple of hundred miles from Portland ,Maine and Boston, Massachusetts.
The Program Coordinator for the 2011 Gathering is Bill O'Brien. Bill is a long-time ALDHA leader and has already been busy making plans for the 2011 Gathering.
He has appointed Dick to be on his Planning Committee. Dick will be keeping IAT Chapters and members up to date as we work towards the October, 7-10, 2011 Gathering.
At the Annual ALDHA business meeting Mike Wingeart was elected ALDHA Coordinator for the next year. For pictures and stories about the Gathering visit www.aldha.org.
On an IAT news note from the Gathering; well known and accomplished, long distance hikers Joyce and Peter Cottrell, "Laurel and Hardy" announced that they were planning a thru hike of the IAT in Prince Edward Island, Nova Scotia and Newfoundland and Labrador in 2011. They have already thru-hiked the IAT from Katahdin to Cap Gaspe. Some will remember that they joined us for the IAT 10th Anniversary celebration at Black's Lodge in Nictau, New Brunswick, Canada in 2004.
Thanks to Walter who did his usual great job taking pictures.