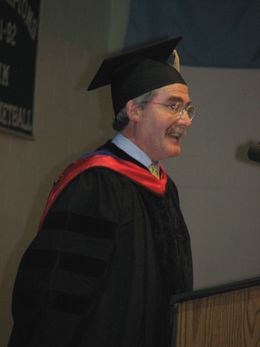 Don Hudson delivers UMM commencement speech and receives Distinguished Service Award
MACHIAS, Maine — The University of Maine at Machias awarded 75 degrees during its 2010 commencement ceremony on Saturday at Frederic A. Reynolds Center.
Forty students earned Bachelor of Science degrees, 24 earned Bachelor of Arts degrees, nine were awarded Bachelor of College Studies degrees and two earned Associate in Science degrees at the 99th commencement in the school's history.
Three students — Nathaniel Jillette of Lewiston, Cody Jourdet of Friendship and Andrew Hayes of New Castle, Del. — received both a Bachelor of Arts and a Bachelor of Science degree. William Cassidy, Class of 1975, received the Distinguished Achievement Award, and 1967 graduate Howard McFadden earned the Distinguished Alumnus Award.
The event was billed as a "waste-free" ceremony, meaning everything was recycled or composted. Even the robes that graduates wore were made of 100 percent recycled material. The commencement speech was delivered by W. Donald Hudson Jr., president of the Chewonki Foundation, who also received the school's Distin-guished Service Award, and his remarks reflected an environmentalist tone as well.
Hudson gave students a history of his life and experiences, starting with his first climb of Mount Katahdin in 1963 as a 13-year-old and ending with his recent involvement with Chewonki, the Wiscasset-based nonprofit that offers educational programs for youth that focus on the environment.
"In summary, as I look back on my path through life and upon the full spectrum of my work — from the summer of 1966 to now, the impulse to reduce my footprint, my impact, on the planet was unavoidable," he said.
He then offered what he called the six essential principles of sustainability, which ranged from the understanding that people and nature are inextricably connected to the realization that quality of life is measured in more than material ways.
UMM President Cynthia Huggins had a simple message for students: Take care.
"Take care of this planet and its precious, limited resources," she said. "Take care of your friends, your families, and the people you encounter on life's journey. Take care of yourselves."