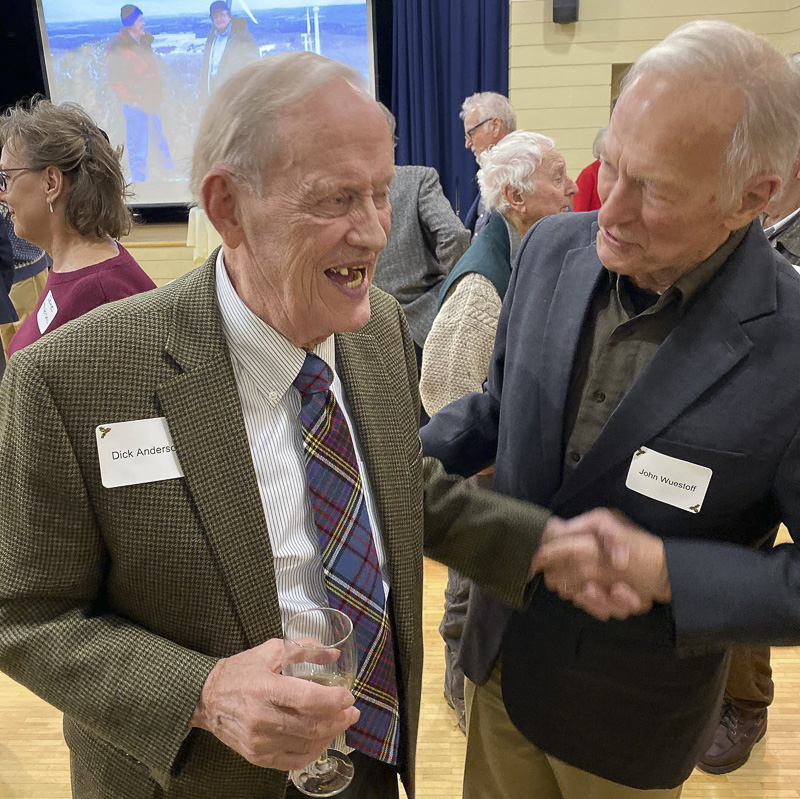 A wonderful group of friends gathered at the old Lunt School in Falmouth, Maine Friday evening, December 13, to celebrate IAT Founder Dick Anderson's 85th birthday and to wrap up the 25th year of the Trail. John Wasilewski and OceanView hosted and catered the party in the auditorium of the old school, which is now party of the OceanView retirement community. Long-time friend and colleague Elizabeth Swain organized the party for the IAT board, and helped insure a robust turn-out.
The party provided an opportunity to also honor former Governor Joseph Brennan, who celebrated his 85th birthday in early November. Joe met Dick in 1953 at the University of Maine at Orono, and Joe appointed Dick as his Commissioner of the Department of Conservation in 1979.
A slide show of Dick's life and the development of the IAT played on the big screen while family, friends and colleagues from their days in government congratulated Dick and Joe, and talked about everything from fishing trips and other escapades. Former Director of the Bureau of Parks & Lands Herb Hartman was in full caucus ore with the former Director of the State Planning Office Dick Barringer and the former Governor. The room was filled with constant chatter as old friends, many who had not seen one another for a couple of decades got up to speed with one another's lives.
IAT champion Eddie Woodin kicked off the speeches with a reminiscence of Dick's life that hit all the high points, from the early days working for Maine Fish & Game (now Inland Fisheries & Wildlife) on salmon in Sebago Lake, to Directing the Maine Audubon Society, and six years of helping to kickstart the recycling business in Maine before heading to state government.
Dick's party helped raise over $20,000 for the IAT, with about half heading to the endowment and the other to day-to-day operations. We are grateful for all of the warm regards and financial support as Dick and the IAT head into the new year.