On Wednesday, 9/22/10, Herb Hartman, Bill Duffy and his dog Trip, and Dave Rand with his ATV and wagon, arrived at Bowlin Camps (www.bowlincamps.com), an extremely convenient and pleasant base out of which to operate, at noon. This dedicated little group crossed the East Branch of the Penobscot on the suspended snowmobile bridge and headed south on the IAT. Additional IAT tags were nailed up, a directional sign post was placed on the trail at the junction of the former Little Spring Brook Road and the former Eagle Lake Road, encroaching alders were cleared, trail marking (tags and ribbon) were switched from leading over the rotten, collapsed bridge to the new ford site at Little Hathorne Brook, and the sign post on the Orrin Falls/Messer Pond Road checked. Walter "Cookee", Anderson, Dick Anderson, and Wilfred Richard arrived at Bowlin later in the day and went to work northward, toward Grand Pitch shelter, clearing trailside brush. That evening, at our camp, "No Aces", Walter's renowned four bean salad accompanied Dick's beef stew.
Thursday, Bill and Trip, Herb, and Will set out on the trail toward the Grand Pitch shelter, where they arrived two hours later after having chain sawn numerous blowdowns, lopped encroaching brush, checked a bear-gnawed sign post to which the added a directional and mileage sign. Dick and Dave followed on the ATV lopping and pulling up fir seedlings within and along the trail. Later in the day, Dave, Bill and Trip, and Will ATV'd south to work on the ford at Little Hathorne Brook.
That evening there was more four bean salad and Walter's spaghetti with big, really big, meatballs. The new owner of Bowlin Camps arrived from New Jersey with his wife and was pleased the group was staying at the camps, which he is significantly enhancing, and hear of the IAT, which he enthusiastically supports.
It was agreed all the intended trail work had been accomplished on Friday and the party left in the rain after another of Walter's hearty breakfasts.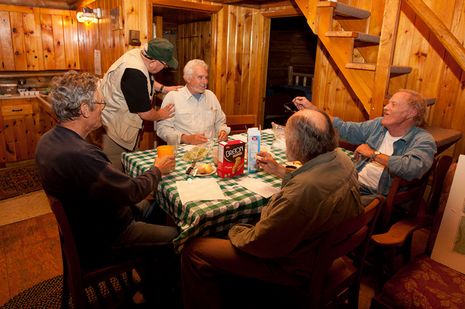 After a hard days work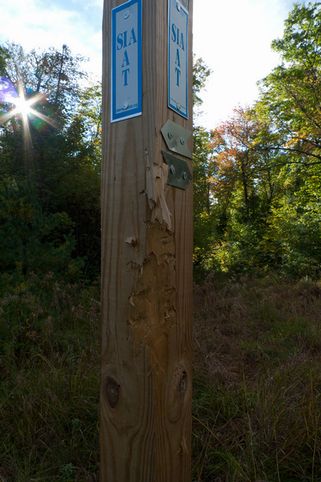 Bears!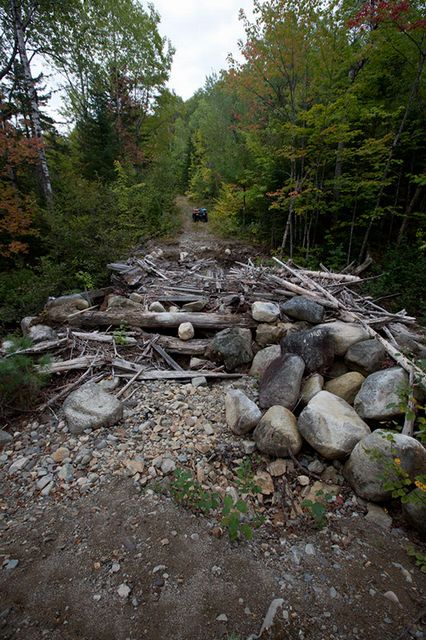 Little Hawthorne Brook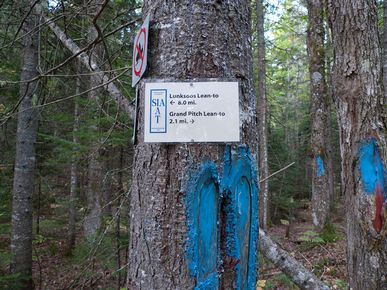 New Trail Sign