My experience in helping Maine IAT work near the U.S./Canadian border by Walt Guerette (GIS student intern at UMPI GIS Laboratory) (Pictures by Chunzeng Wang)
May 22nd was my first day working in the field with the UMPI GIS Laboratory as a summer GIS project intern. I knew we would be hiking a section of the IAT leading over Mars Hill, but I really didn't know what to expect. We were accompanied by Justine Cyr, who was also working her first day in the field as a GIS summer intern. After meeting up with Dave and Richard Rand, we drove to the base of Mars Hill, stopping occasionally to put up IAT markers along the road.
After parking Chunzeng's car at the north end of the Mars Hill section of the IAT we would be hiking, we piled into the bed of Dave's pickup and ascended First Wind's access road. My father, as a Project Manager for Reed &Reed Engineering, spent lots of time working on the Mars Hill Wind Turbine project, so I had always been interested. Just getting to ride the access road on our way to the beginning of the trail section was probably the highlight of my day. After a quick detour to repair and clean up the Mars Hill lean-to site, we drove to the beginning of our trail section and began hiking, clearing and trimming the trail and putting signs as we hiked. I used one of UMPI's Trimble GeoXH GPS units to map the trail as we hiked.
On Friday the 25th, Chunzeng, Dave, and I hiked into the Fort Fairfield lean-to site along the Fort Fairfield section of the IAT US/Canada border trail, accompanied by Kim McCrea who is UMPI OAPI Manager and Gentle Hall Assistant Director, and her dog, Bella. No mapping was done today, but we repaired one sign post and placed another as we hiked, in addition to cleaning up the Fort Fairfield lean-to site. The trail brought us along side the US border markers, which was a first for me. On our drive home, we stopped periodically to place IAT markers along telephone poles accordingly. I consider myself incredibly fortunate to be able to work in these places. From driving around the Mars Hill wind towers to hiking along the U.S. Border, it's pretty hard to believe that I get to call this "work".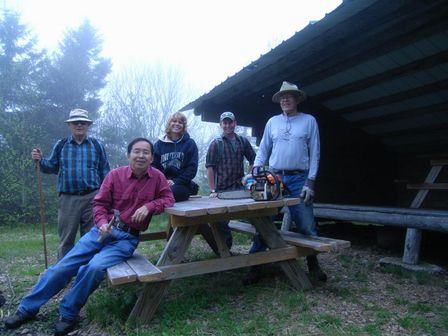 At the Mars Hill lean-to, Richard Rand, Chunzeng Wang, Justine Cyr, Walt Guerette, and David Rand
Chainsaw Carpentry at Mars Hill lean-to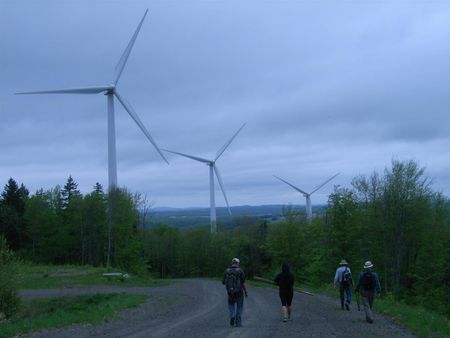 Walking the IAT First Wind road section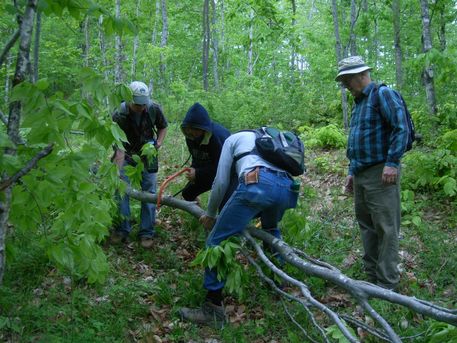 Removing a blowdown from the trail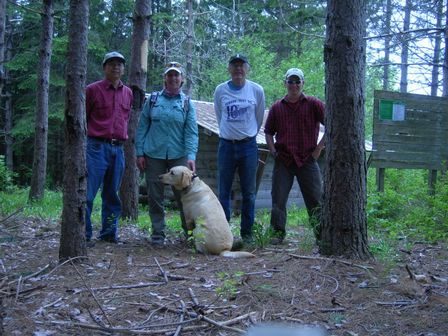 At the Fort Fairfield lean-to, Chunzeng Wang, Kim McCrea with Bella, David Rand, and Walt Guerette