Maine IAT Chapter Board members; Herb Hartman, Dick Anderson, Walter Anderson, Bill Duffy and Dave Rand recently completed the spring cleanup of the section of trail between the summit of Deasey Mountain and the Matagamon Wilderness Campground —a distance of about 17 miles.
Walter, as usual, did all the camp work, including buying food, cooking and cleanup.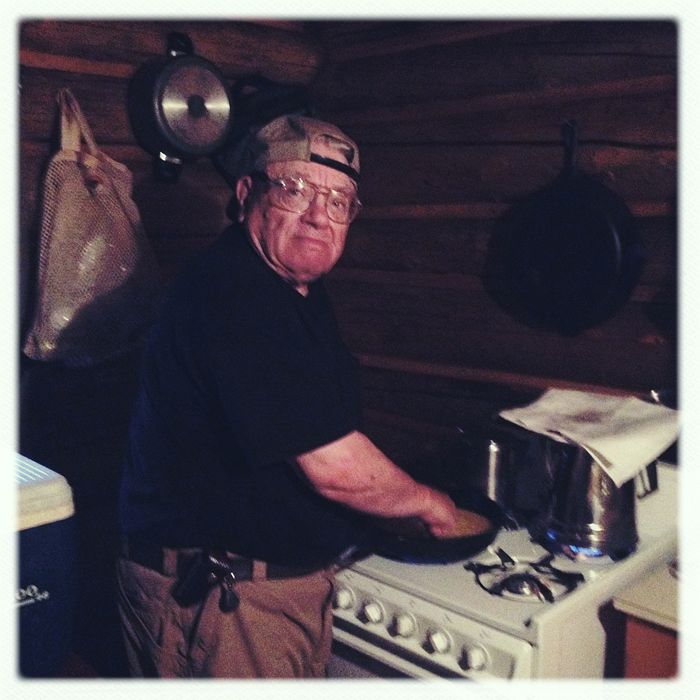 Walter "Camp Chef" Anderson – photo by Bill Duffy
On Wednesday, Walter and Dick inspected the northernmost section of trail from Grand Pitch to Matagamon. They found that section in pretty good shape, with the exception of some serious beaver caused flooding near Checkaberry Camp. As a result they relocated a short section of the trail and replaced the "Tags" and arrows to guide hikers over the new section. Minor trimming was also needed along the entire section.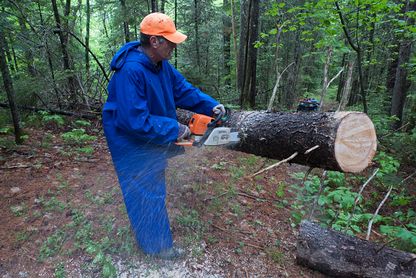 Dave Rand at work on the trail – – photo by Bill Duffy
Dave, Herb and Bill ,assisted by Dave's ATV ,were able to accomplish the cleaning of both Campsites in this section of trail—Lunksoos and Grand Pitch—-both of which were in good shape. This crew also cleared some big blowdowns and pruned brush along the many miles of trail from Bowlin Camps to the Summit of Deasey Mountain. Bill hiked both Deasey and Lunksoos Mountains to accomplish the necessary trail upkeep and improve the marking of the trail. Herb and Dave cleared the Lunksoos Campsite area, the trail to the water supply and the first 200 yards of the trail up Lunksoos Mountain.
Dave Rand Crossing Hathorn Brook – photo by Bill Duffy
After a long day's work on Wednesday, the crew enjoyed a few cold ones with Pat Clymer, the new manager of
Bowlin Camps
, before a traditional Walter Anderson dinner of beans and franks.
Having completed all necessary–and planned—work by darkness on Wednesday the crew packed up early on Thursday, while Walter cooked breakfast, and hit the road south at about 6:00 A M. It was a great and successful trip and we hope other volunteers can join in on the next work trip.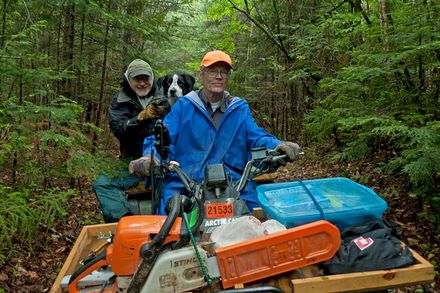 Herb Hartman, Trip, and Dave Rand – photo by Bill Duffy
The crew stayed overnight for two nights at
Bowlin Camps
and that allowed the more efficient use of time, since there was no setting up of tents or the doing of other camping chores.