Walter Anderson, Don Hudson, Ed Friedman and Dick Anderson went north to the IAT Annual meeting one day early and did some trail work. They stayed Wednesday night at the Brookside Motel in Oakfield. On Thursday morning, on their way to Shin Pond, they did the regular cleanup of both Wright Farm and Roach Farm campsites.
In general both campsites were in good shape. A ,Don Hudson made, new sign replaced the 10 year old ones at both campsites. Floors were swept, litter was picked up, toilet paper was added and brush was pruned. At the Wright Farm the privy door was repaired. At Roach Farm the fire ring needed a lot of work and about a foot of each perlin was removed to correct an error made in the original construction.
Thur hiker Michel Jacques assisted them in the cleanup work.
Both campsites are now ready for hiker use.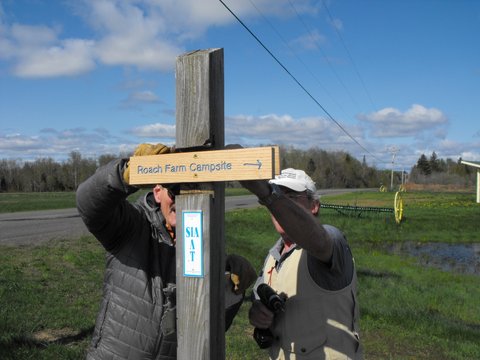 Ed Friedman and Don Hudson installing Roach Farm Campsite Sign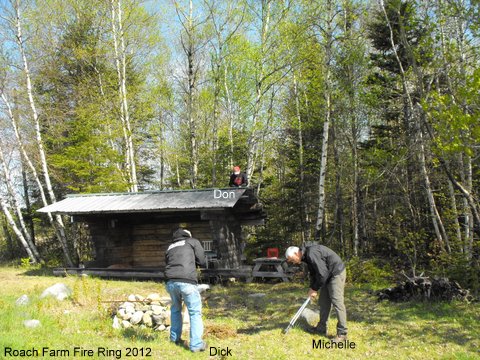 Dick Anderson and IAT Thru Hiker Michelle Jacques cleaning up Roach Farm Campsite
Don Hudson and Dick Anderson installing sign at Wright Farm Campsite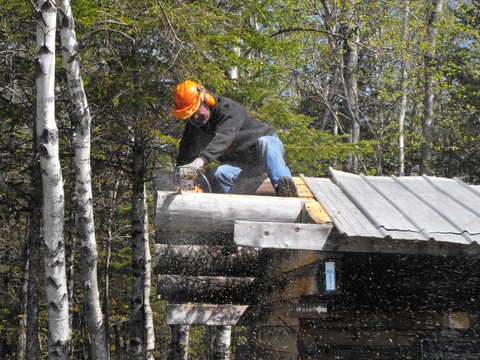 Don Hudson working on roof at Roach Farm Campsite