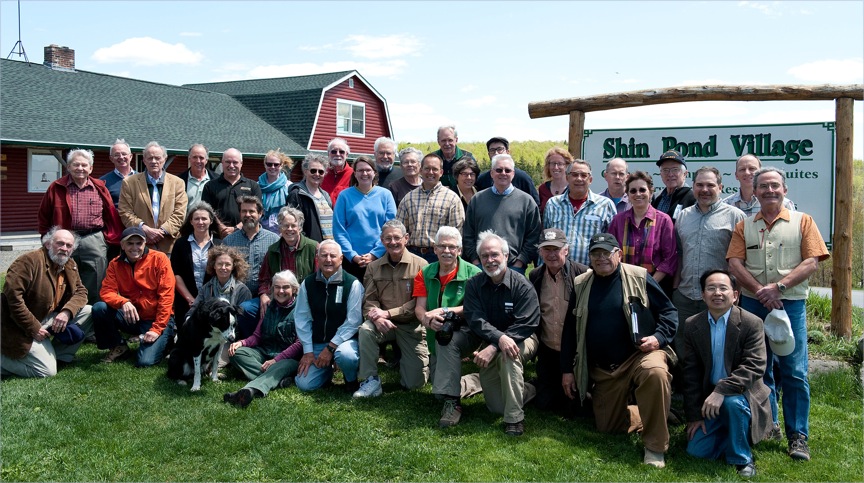 IAT Members and Friends and 2012 Annual Meeting Shin Pond Village
Members and friends of the International Appalachian Trail met this past week – May 17th to 19th – at Shin Pond Village for the 18th Annual Meeting of the Maine Chapter. IAT Chief Geologist Walter Anderson assembled a compelling and full program that began at 3:00 pm Thursday afternoon, May 17th, at the Lumberman's Museum in Patten. Museum Director Ronda Brophy and the Director of the North Light Gallery of Millinocket, Marsha Donahue, presented the opening of a traveling exposition – "North Woods and Katahdin Art", celebrating the work of more than a dozen painters. David Little spoke to the group about the art of the Katahdin region, soon to be published in a large format book by Down East. Look for it at the year-end! Maine Chapter board member Will Richard made the Thursday evening keynote illustrated by a beautiful collection of images made during his many visits to Newfoundland, Labrador and Greenland. The Smithsonian Institution will publish Will's book about the region he calls the "Far Northeast" in 2013.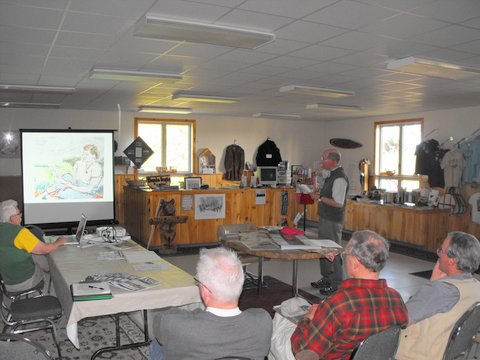 Lumberman's Museum – Photo by Walter Anderson
A full day of presentations on Friday was highlighted by a special presentation to IAT Founder Dick Anderson and Maine philanthropist and conservationist Roxanne Quimby. Program Coordinator Anderson took special care this year to invite speakers who had received grants of support for their projects and work by the Quimby Family Foundation. Author Howard Whitcomb made the Friday evening keynote address, "A Pictorial History of Baxter State Park and Katahdin."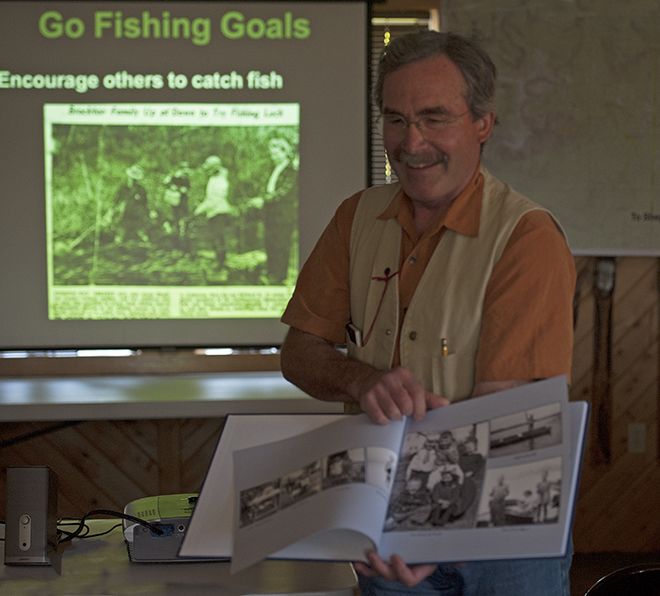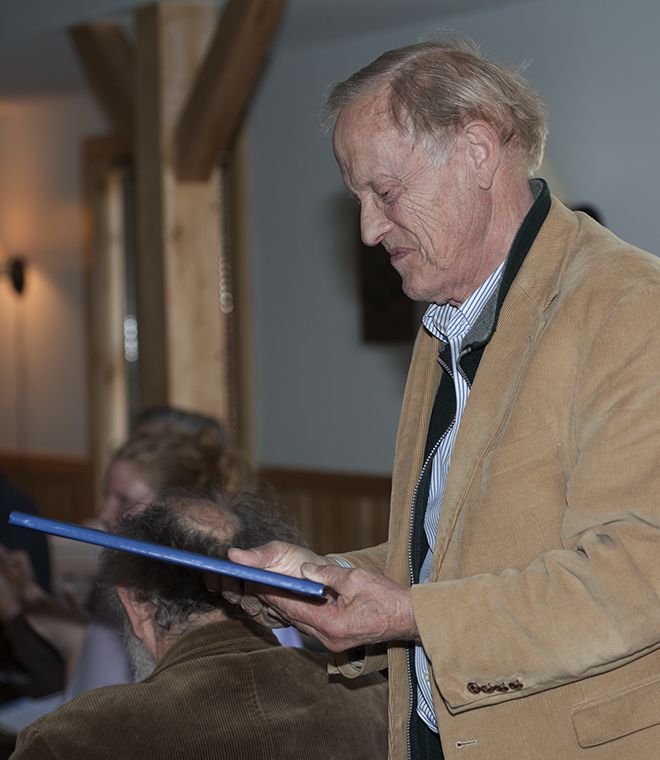 Over 40 participants gathered after lunch for the traditional photograph on the lawn of Shin Pond Village before reconvening for the afternoon session. New Maine Chapter board member and University of Maine at Presque Isle professor of geology Chunzeng Wang opened the session with a presentation on an initiative to map all of the trails of Aroostook County (UMPI provides high-tech tools to municipalities)
Author Steve Pinkham followed with a brief description of his new book "Old Tales of Maine Woods", an anthology of stories from historic sportsman's magazines of the mid- to late 1800's and early 1900's. University of Maine at Farmington professor of geology Julia Daley, who joined the Maine Chapter board in April, spoke next about the status of her project to monitor temperature in remote mountain ponds and included time-lapse photography to illustrate the dynamics of ice formation and ice "out". Artist and naturalist Jude Eldridge followed Daley and used images, video and sound to introduce the amphibians of the Maine section of the IAT.
Maine philanthropist and conservationist Roxanne Quimby took the floor next to present her proposal for a National Park or National Monument on EPI's lands east of Baxter State Park. The special designation for these lands is part of a comprehensive proposal that includes conservation of land north of Monson for the Appalachian Trail as well as the creation of a special motorized sports conservation area on lands east of the East Branch. The proposal is currently on hold, waiting for support by Maine's congressional delegation. In addition to efforts to create a national park on her land in Maine, Roxanne is also working hard to consolidate ownership of national parks by purchasing in-holdings within the boundaries of over a dozen parks in the country. Her goal is to acquire as many parcels as possible before the 100th anniversary of the national parks in 2016, at which time she and her children Lucas and Hannah will make a special gift of the in-holdings to the Department of the Interior.
Before Roxanne was able to take her seat Don Hudson noted the special contribution that she had made to the Maine Chapter by allowing the IAT to be located on EPI lands. Don then presented Roxanne with a drawing by Jude Eldridge of the Haskell Deadwater made during a visit as part of EPI's Visiting Artisits program. EPI, under Roxanne's direction, opens several wilderness cabins and lodges on its land for the use of artists throughout the year – free of all charges. Just as planned for Dick Anderson, Roxanne was completely surprised by this special award, and she thanked the group for its support.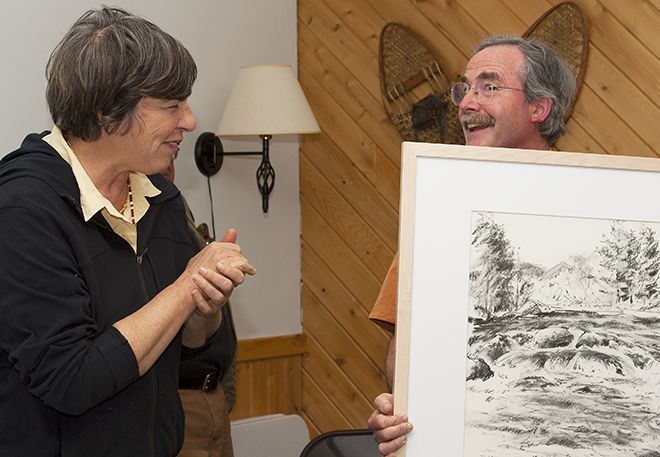 The very full afternoon ended with the presentation of the Grindstone Scenic Byway by Maine DOT's Fred Michaud and Bruce Hazzard. The Scenic Byway links Matagamon to Patten on Route 159, south to Medway on Route 11, and finally through East Millinocket and Millinocket on Route 157 to the Togue Pond gate of Baxter State Park. Bruce concluded the presentation with a special invitation to the Maine Chapter to join the area coordinating committee for the Scenic Byway.
The annual business meeting was conducted quickly in order to get participants to "Attitude Adjustment" session before a special dinner cooked by Terry and Craig Hill and their staff at Shin Pond Village.