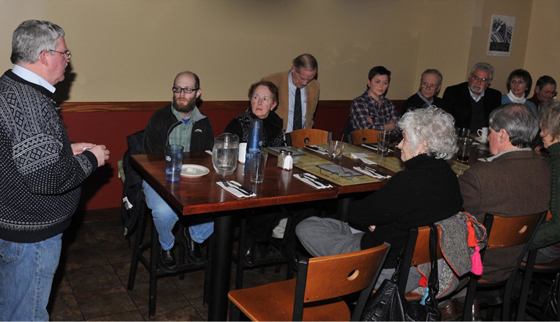 Andrew Graves Speaks to Maine Chapter Representatives
The Management Officer of the American Embassy in Reykjavik, Iceland has decided to plant some roots in Maine, and the Maine Chapter organized a special dinner recently to welcome Andrew and Kristin Graves to Portland. The dinner served a second important purpose, as several board members in attendance will attend the first international meeting of all of the chapters of the International Appalachian Trail scheduled for June 15th in Reykjavik. The Maine delegation will be lead by IAT founder Dick Anderson, and will also include geologists Walter Anderson and Robert Marvinney, as well as Will Richard, Earl Raymond and Maine Chapter President Don Hudson. In addition to the board members, Cheryl Marvinney, Lindsay Dorney, Phine Ewing and Maureen Ellerton will complete the Maine delegation. Though Earl and Maureen were unable to attend the dinner, Thomas Urquhart and Amy MacDonald, Herb Hartman and Lucy Martin, Anne Anderson, Geraldine Wolf, Bob Lemieux, and Seth Levy completed the party.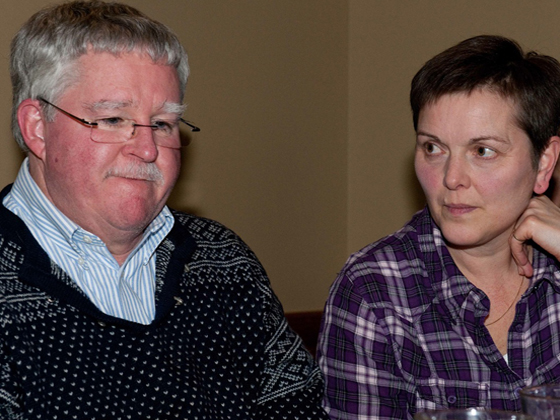 Andrew and Kristin Graves
An important and symbolic event will be held at the American Embassy on June 15th for the representatives of all of the chapters as well as the Ambassadors of a number of embassies and consulates that represent IAT member countries in Iceland. Although originally planned for just over 20 people, the reception will likely include over 50 people once all of the chapters make their final plans for travel. Andy Graves spoke to the group about how he landed the job of running the embassy in Reykjavik, and he painted a wonderful picture about what to anticipate and expect from a visit to Iceland in June. He looks forward to welcoming the group to the American Embassy on June 15th.
Dick Anderson with Andrew Graves
The gathering and dinner at the Sebago Brewing Company pub was a great success, and served to introduce one of Maine's newest couples to an important slice of the greater Portland and Maine communities. The Maine delegation traveling to Iceland looks forward to seeing Andy and Kristin in their work environment in mid-June.