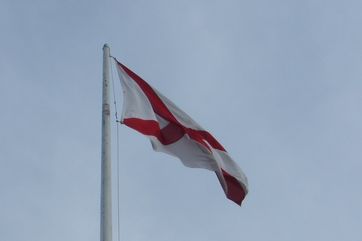 Alabama State Flag
Alabama Hiking Trails Society (AHTS)
At the invitation of the Alabama Hiking Trails Society (AHTS), representatives of the International Appalachian Trail(IAT) delivered a presentation on the history and development of the IAT at the annual meeting of AHTS. The meeting was held in Columbiana, Alabama on March 9 and 10. Don Hudson, Maine IAT Chapter President and Dick Anderson, Maine Chapter Treasurer, represented the IAT and gave the presentation on Saturday morning.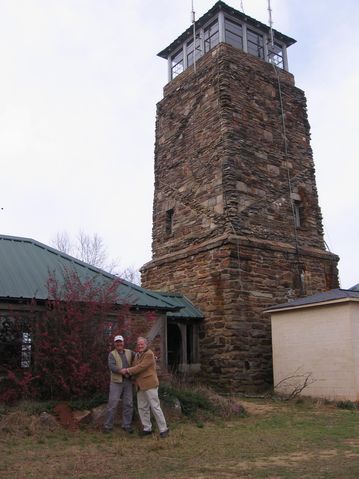 Dick Anderson and Don Hudson at Flagg Mountain Summit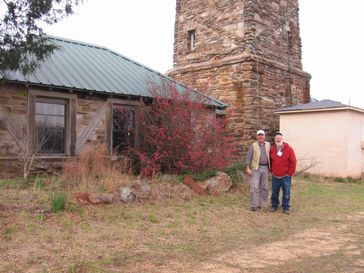 Don Hudson, Maine IAT Chapter, President with famous long-distance
hiker, and IAT thru-hiker~"Mother Nature's Son", John Calhoun at the
summit of Flagg Mountain–the south end of the Appalachian Mountains
in North America. John was our host at the meeting.
The AHTS~trail register at Flag Mountain; note ECT hiker Sterling
Coleman signed just before Don and Dick.
The presentation was well received and there was great interest in the continuing development of the IAT. The AHTS trails include many miles of trail through the southern Appalachian Mountains in Alabama, south of the end of the Appalachian Trail at Springer Mountain, Georgia. Dick and Don asked~members of AHTS to consider becoming a Chapter of the IAT.
John Calhoun "Mother Nature's Son" a thru hiker of the~IAT—Crow~Head to Katahdin 2007—and a member of AHTS, guided Don and Dick on a trip to the summit of Flagg Mountain, the~southernmost one thousand foot mountain in the Appalachian Mountain chain in North America. Don was thrilled to get to~Flagg Mountain, having been~hearing about that mountain for many years.
Both Dick and Don had a wonderful time and thanked the folks at AHTS~for their great "southern hospitality"
The pictures, accompanying this story, were taken by Don and John.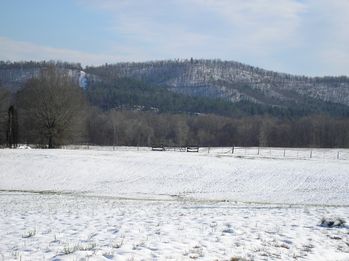 Distant View of Flagg Mountain (Photo taken by Mike Kennedy, President of AHTS)