Maine IAT Board Member, Elaine Hendrickson and her husband Eric, have been two of the most enthusiastic and energetic trail supporters for many years. With the postponement of our Annual General Meeting at Shin Pond and only limited access to the IAT in the Katahdin Woods & Waters National Monument, Elaine and Eric have taken advantage of nearby Mars Hill Mountain to get out of the house and enjoy Maine's spring. 
At the Top of the World:  Mars Hill Mountain
By Elaine Hendrickson
As the world has spun out of control these past two months, Bigrock Ski Area and Mars Hill Mountain have provided my husband, Eric and me with our own private playground in which to practice social distancing and exercise as prescribed by our Maine governor, Janet Mills.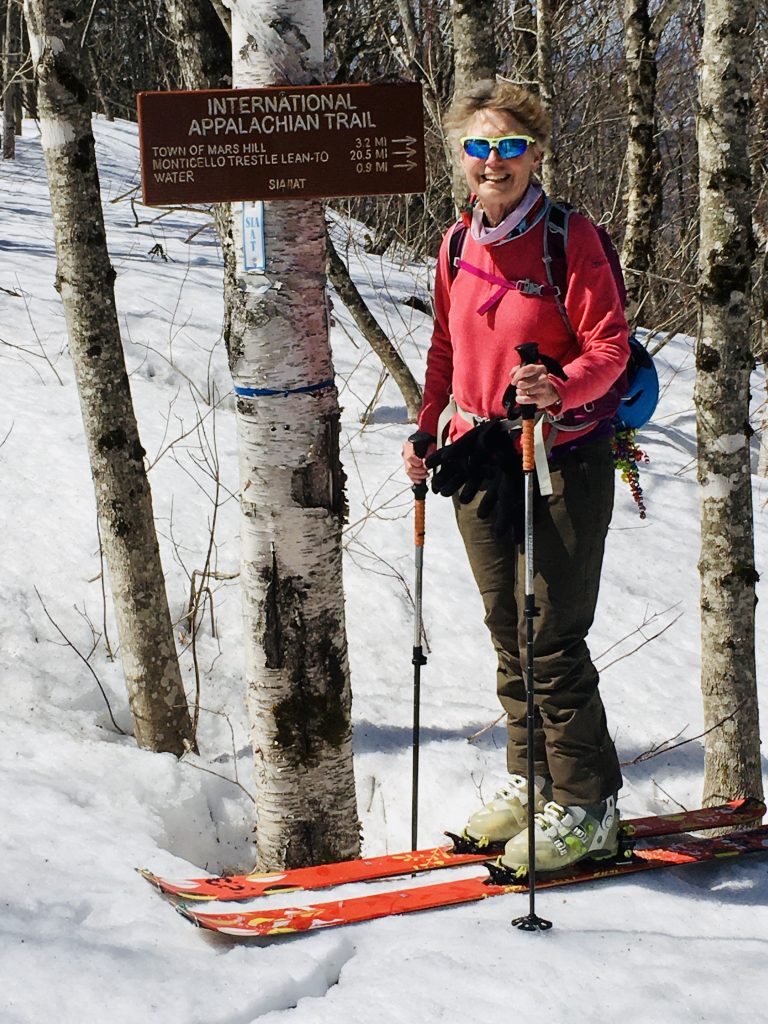 The Maine IAT traverses from the South Peak to the North Peak of Mars Hill Mountain.  Since Bigrock Ski Area closed on March 15, we have loaded the backcountry skis, poles, and boots into the back of our truck and headed from Presque Isle to Mars Hill.  Applying our skins to the bottom of our skis and adjusting the ski lifters to the steepness of the hill, we have trekked up the mountain at least 8 times (at this writing).  Each day the snow conditions have varied from icy to soft, warm to cold and windy.  The IAT trail leads to the Mars Hill lean-to at the summit which makes a good shelter to remove skins, have lunch, view the snow-capped peaks of Katahdin, watch the windmills circle round and round, and enjoy the world around us.
One day we decided not to hike and ski Bigrock.  Our trek this time took us to the North Peak.  Since it had rained the week before, the roads to the summit had turned from solid hard packed snow in some spots to blue ice in others.  Parking at the bottom of the road to the radio towers, we strapped the crampons to our winter hiking boots and headed along the IAT and the windmill road to the summit.  One part of the road was shaded with the wind blowing uphill and covered in blue ice.  What a challenge!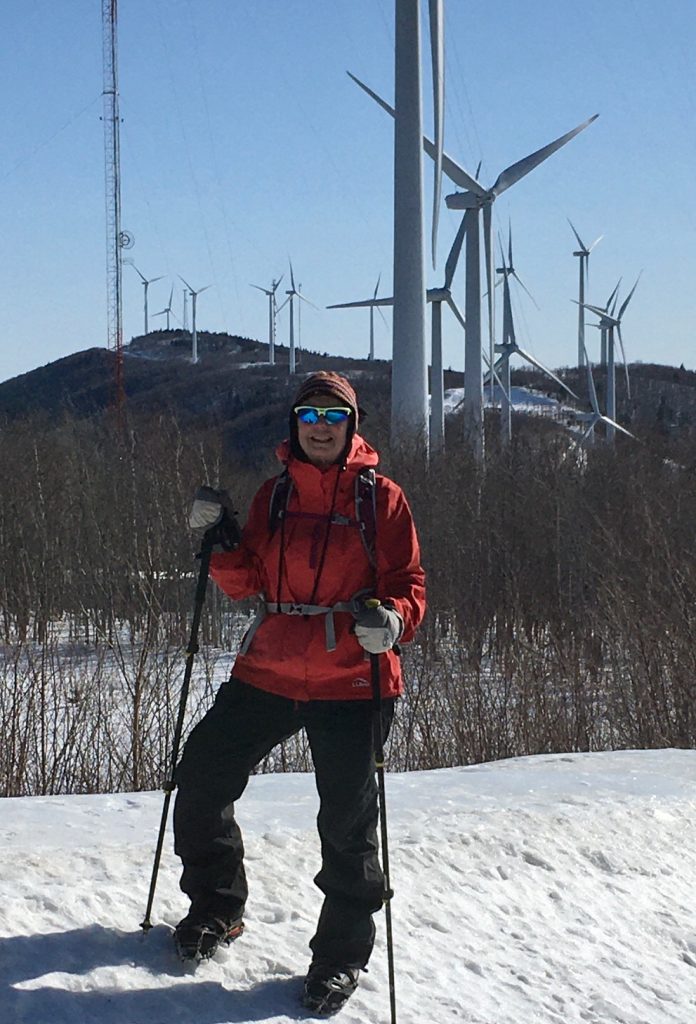 Our turning point was a ledge that overlooks the Canadian border.  We left dreaming of a time that we could cross the border once again and continue our backcountry skiing and hiking on the IAT in Quebec!