The Annual Gathering of the Appalachian Long Distance Hikers Association, www.aldha.org, was held at Williams College, October 9-12. Maine Chapter members Dick Anderson, Walter Anderson, Will Richard, Julie King and Don Hudson represented the IAT at the Gathering, offering four presentations during the weekend.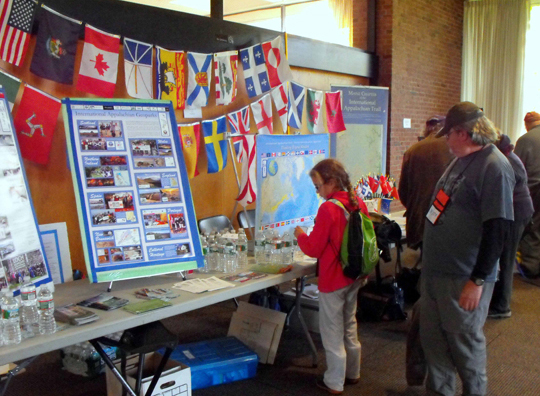 ALDHA Attendees viewing IAT booth
IAT thru-hiker Julie King provided a glimpse of some of the outstanding hiking that she and her hiking companion Ed Talone experienced on and off the IAT in Atlantic Canada. Will Richard introduced his new book, Maine to Greenland: Exploring the Maritime Far Northeast, written with William W. Fitzhugh, director of the Arctic Studies Center at the Smithsonian Institution. Will has assisted Bill during research expeditions to the Quebec North Shore and Labrador for the past many years, and he has traveled numerous times to the Canadian Arctic and Greenland. Will's photographs provide the bulk of the outstanding illustrations, and the chapter on the Maritime Provinces includes a section on the IAT.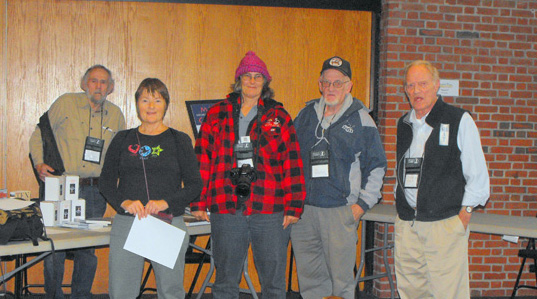 (Left to Right) Will Richard, Hikers Julie King, Jo-Jo Koby-Burley (who is the only woman to have hiked the ECT and the IAT and is former Coordinator of ALDHA), Frank Burley and Dick Anderson
Walter provided an excellent overview of the role that the IAT and the Ancient Appalachian Mountains play as ambassadors of the geosciences to the modern world. Since the proposal for the IAT was presented on Earth Day, April 22, 1994, we have explained that the IAT traces the ancient mountains, first in North America and then around the rim of the North Atlantic Basin to the Atlas Mountains of Morocco. The story is a compelling one, and the IAT is increasingly recognized for the role it plays in interpreting the geologic history of the Earth.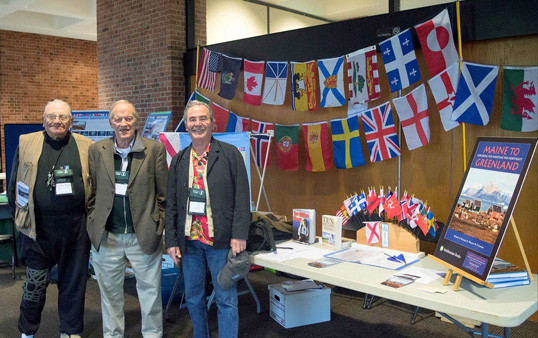 (Left to Right) Walter Anderson, Dick Anderson, Don Hudson
Don Hudson reported on the International Annual General Meetings in Iceland, Scotland, and earlier in the month in Plymouth, England, and reviewed the recent work on the trail throughout Europe and Morocco.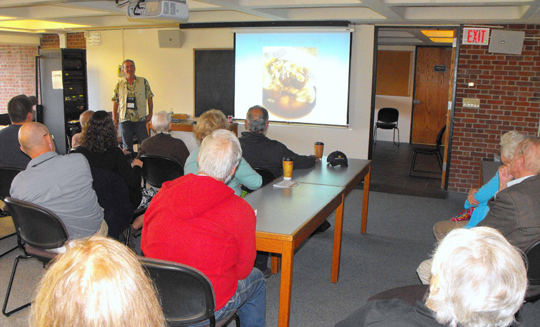 Don Hudson presenting
No one was more surprised than Dick Anderson when it became clear that he was the highlight of the annual business meeting at the Gathering. Bill O'Brien was half way into his description of an outstanding long-time ALDHA member when Dick realized that Bill was talking about him! Much to Dick's surprise and the delight of the others in attendance, Dick was awarded with ALDHA's highest distinction–an Honorary Lifetime Membership in ALDHA!
The Maine Chapter has been represented at ALDHA meetings since 1998, and Dick has been there at nearly every meeting since to tell the story of the trail.
Dick Anderson