INTERNATIONAL APPALACHIAN TRAIL – MAY 2-3-4, 2013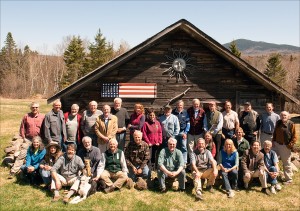 A group of approximately forty scientists, artists, writers, and natural resource professionals representing government, non-government, recreation, and business organizations descended on Shin Pond Village, Maine to attend the Annual Meeting of the Maine Chapter of the International Appalachian Trail (MCIAT).
THURSDAY MAY 2 – The program commenced at the Lumberman's Museum, Patten, Maine where Director Rhnoda Brophy graciously treated attendees to coffee, wine and cheese/crackers, combined with an interesting presentation and exhibits of historic photos, art, and artifacts of the lumber and forest industry in Maine. The meeting also coincided with the celebration of the 50th Anniversary of the Lumberman's Museum.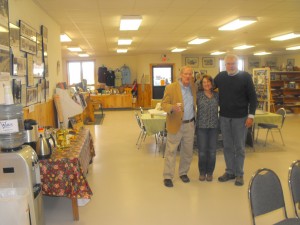 In late afternoon, the attendees travelled a short distance to Shin Pond Village for a social hour followed by a delicious dinner prepared by proprietors Terry and Craig Hill.
The highlight of the evening was a fascinating presentation on a new internet screening methodology and technique for plant identification given by Don Hudson entitled, "Go Botany". Throw away your Gray's Manual of Botany?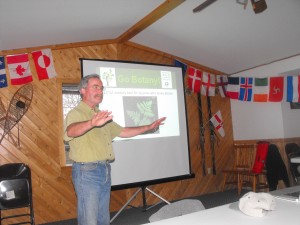 FRIDAY MAY 3 – This day was an informative full program day of presentations by a variety of conservation, recreational, artists and natural resource leaders, planners, authors and organizations, such as: International Appalachian Trail, Baxter Park, Friends of Baxter Park, Elliotsville Plantation Inc., Department of Transportation, New Brunswick IAT, Pinhoti Trail, Alabama, Forest Society of Maine, Published Authors, and University of Maine Farmington.
The late afternoon included a brief annual business meeting of both the members of the MCIAT and the board of the MCIAT.
A social and attitude adjustment interval furnished an opportunity for convivial conversation and professional exchange, and once again Shin Pond Village provided an excellent supper.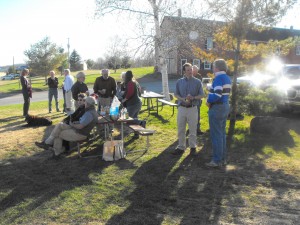 An interesting and timely presentation of the "History of Mining in Maine" from 18th century to present was given by Fred Beck, a professional geologist and long time resident of Maine. He spoke of a full spectrum of mined commodities in Maine, including; clay(bricks / ceramics), peat (agricultural / energy), pegmatites (semi-precious gems), bog iron, base metals (copper, zinc, lead, etc.) and precious metals (gold / silver).
SATURDAY MAY 4 – Two morning field trips marked the events on an exceptionally beautiful day. One group of hardy trekkers lead by Earl Raymond ascended Mt. Chase and another climbed to Sugarloaf Mountain lead by State Geologist, Bob Marvinney.
Respectfully submitted,
Walter Anderson, Program Chairman
Additional Photos: