Time for an update on some thru hikers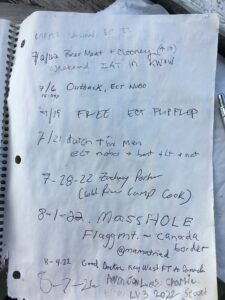 It's been a busy season for thru hikers on the IAT in Maine! During a recent trip up Deasey Mountain, a quick check of the logbook had an entire page of check-ins by ECT hikers. Lots of traffic; lots of great hikers coming through. Two of their stories are notable.
Out There, from Oklahoma, recently crossed the Canadian border and got some trail magic in the form of package delivery from Maine IAT Vice-president Elaine Hendrickson and her husband. They met Out There on his 266th day on the trail. Out There is currently hiking the Eastern Continental Trail, summitted Katahdin early in August and made it to the Canadian border by August 17. He reached Quebec as of August 26th! Out There began his hike in December in Florida and hopes to finish the North American section of the IAT before snow flies. You can follow his adventures at https://www.facebook.com/Adventurehoppers.
Another recent hiker is Waterlilly (her full trail report is here: https://maineiat.org/2022/08/31/waterlillys-hike/). Waterlilly sent a gorgeous update with sketches she made along the trail. She took no pictures, recording her trip with pen and ink only. Waterlilly has produced a beautiful sketchbook and a great trail report that includes some helpful tips.
There are many more hikers who are cruising along, or soon will be. If you'd like to have a mention or have a link to your trail journal put up so people can follow along, send us a message (https://maineiat.org/contact/).