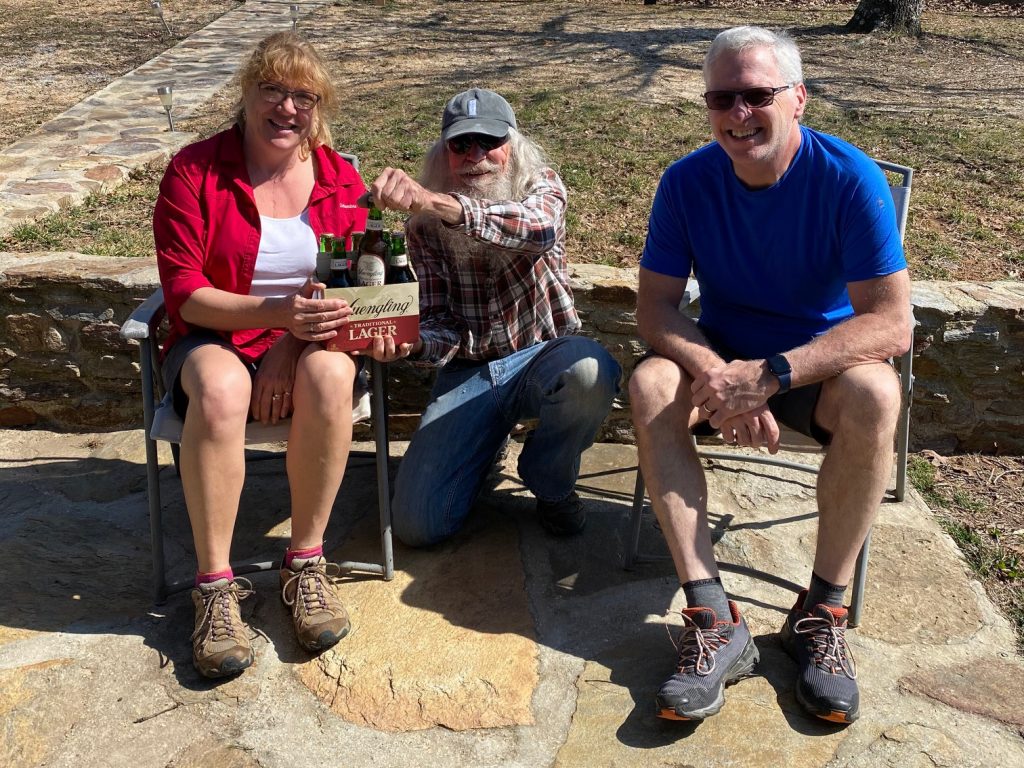 On the first day of our trip driving our RV across the country we decided to visit with Dick's friend Nimblewill Nomad at Flagg Mountain, Alabama. We were staying at Higgins Ferry Park Campground on Lake Mitchell about an hour from Flagg Mountain. It was a beautiful and unusually warm day for a nice drive to the mountain. We approached from the south and drove the dirt road to the top, stopped for the views and then descended to the area where the cabins are located and Nimblewill lives. We were greeted with a big warm welcome and instantly felt at home. After a few quick introductions we gave Nimblewill the Yuengling beer Dick told us he liked, and he couldn't believe we found some and brought it to him. I have a feeling that may be saved for the end of his latest hike. We then sat on the porch of the cabin and talked about his hiking, life and work on the cabins there on Flagg Mountain.
When Nimblewill first arrived at Flagg Mountain in 2018, the cabins were in disrepair with no windows, doors, peeling paint and severely vandalized. He has since helped restore the cabins and they look in great shape. We really enjoyed his tales about hiking and it's amazing to think he didn't start long distance hiking until he was almost 60. He told us about hiking the Pacific Crest, Continental Divide and Appalachian Trails, and his hikes along some of the scenic byways.
We then discussed aging, keeping our minds and bodies active and the mental aspect of long-distance hiking. He finds the mental aspect more difficult than the physical. He seems very prepared and confident about his upcoming hike of the Appalachian Trail and has completed many 15–20-mile hikes to prepare himself physically. Nimblewill is such a warm and inviting person and inspires one to get out and do the things that motivate us. We said our goodbyes after we took a short hike around the top of Flagg Mountain – a beautiful place to call home. As we drove off the mountain, I could not help but think to myself, I need to continue to pursue my passions and be as active and inspirational when I'm 84.
Nick and Paula Pancoast