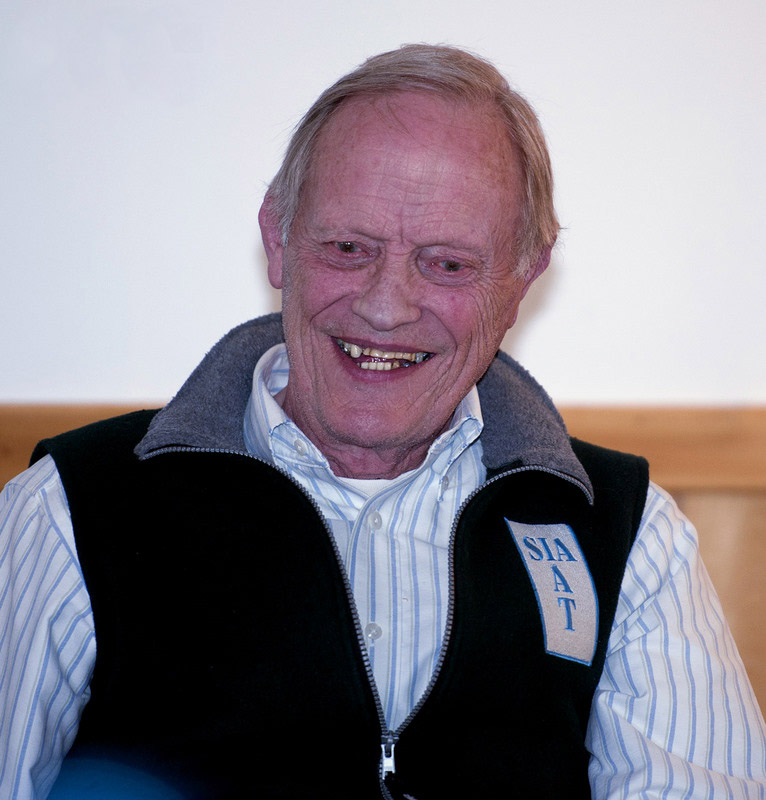 On the occasion of his 80th birthday, December 12th, the Maine Chapter hosted a party for Dick Anderson, visionary conservationist, leader, mentor & friend. Nearly 80 friends and family from Dick's long life and career in conservation attended, including former Maine Governor Joe Brennan who met Dick 60 years ago at the University of Maine. Joe announced the creation of the IAT on Earth Day 1994, and he's hoping that the current board will consider running a side trail past his home on Munjoy Hill in Portland!
Dick was recognized for a lifetime of achievement in conservation, wild animal and road kill cookery, driftwood and pine cone marketing, recycling, and–most importantly–for being the 'Father of the IAT', as Dave Startzell put it in his words to Dick. No one has contributed more to the success of the IAT than Dick. He conceived the footpath and assembled a team that built trails and campsites over many weekends for years.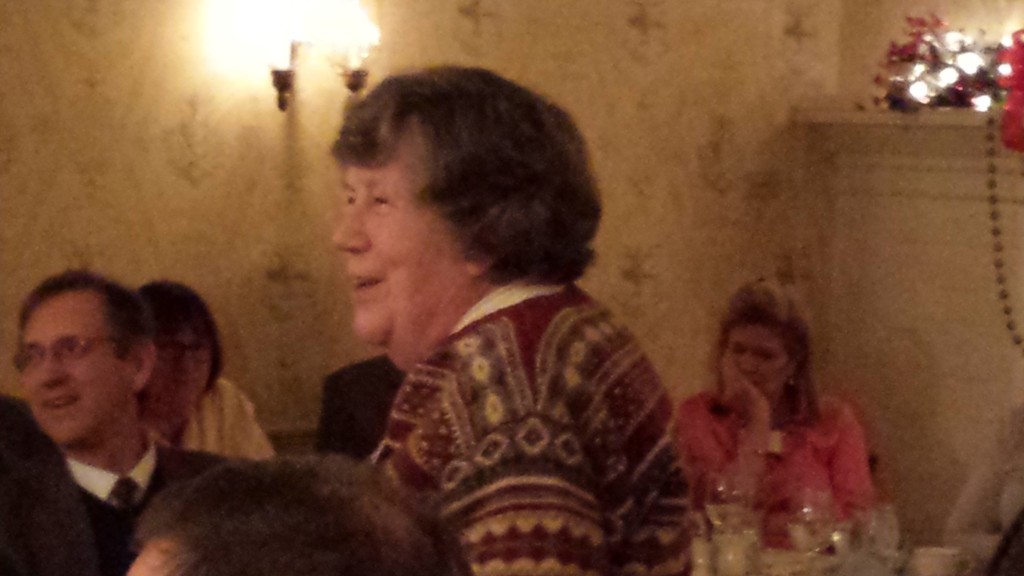 Sherry Huber, retired Maine senator and long-time conservationist who worked with Dick and others to establish the Gisland Farm headquarters of the Maine Audubon Society in the late 1960′s, along with several of Dick's friends and former colleagues provided various speeches and toasts. Everyone in the room shared the warmth and appreciation for Dick as they have all been touched by his contagious enthusiasm and "can do" spirit.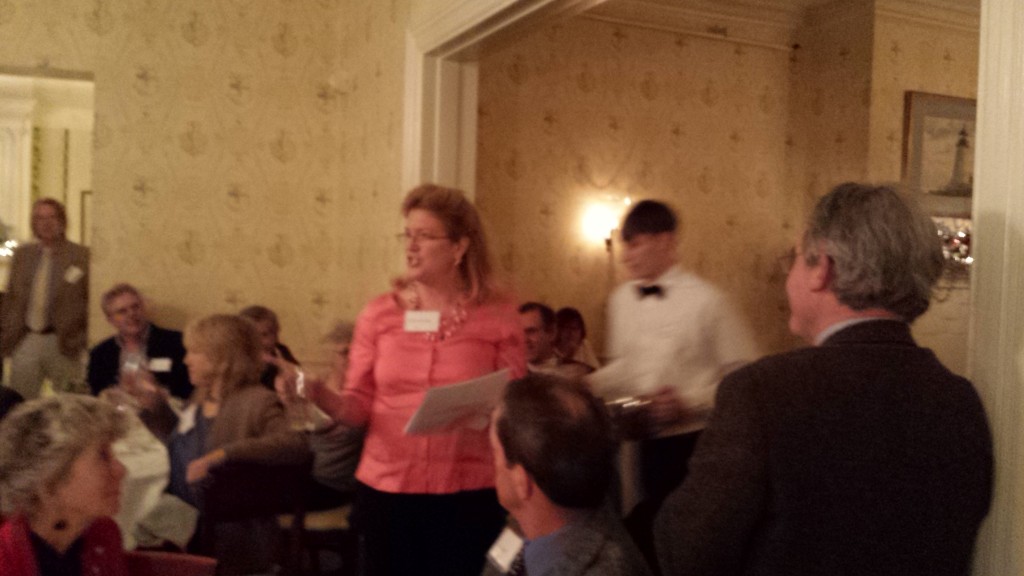 Connie Gemmer, a colleague of Dick's at Barton & Gingold entertained all with the following poem:
Well Richard, Yingle Yingle…You've done the best you could possibly do!
Yingle Yingle… This is quite a display
All kinds of love here – there's plenty to say!
How does one capture all that you've done?
Jam packed with adventure, field trips and fun.
How many miles do you suppose that you've hiked?
How many stories have you told, that we liked?
How many mountains have been in your view?
How many animals have gone in your stew?
Richard's a guy who's attitude soars
When he gets really psyched, no question – he ROARS!
His smile is like indelible ink
Consider his eyes – they twinkle – I think.
Recall what a crowd our pied piper's led.
Trail people. Waste people. Friends all well fed.
Bird watchers. Boaters. Fishermen too.
There've been governors, congressmen; there's been me and there's you!
Where ever he goes, he attracts quite a crowd
In a room full of voices, his stands out – cause he's loud
Whoever he meets is impressed right away
Especially when treated to muskrat pate.
For so many years, Dick, you've been a bright light
Come up with ideas that seemed outta sight
Remember the Caribou? And transporting those fish?
Recycled toll tickets were more than a wish.
There's no doubt that Dick leaves a lasting impression
The Tsar of Enthusiasm thru years of recession
A trail blazer first – that's Dick thru and thru
We're all honored to be here. Happy birthday to you!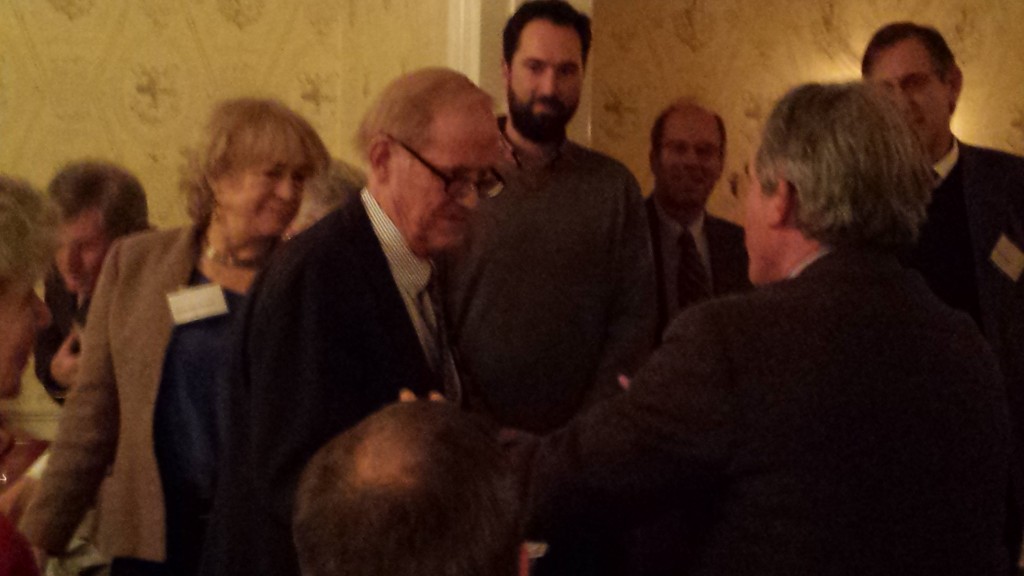 To top the evening off, Dick was surprised to learn that the Maine section of the IAT has been named the "Richard B. Anderson Trail" in his honor. Don Hudson presented Dick with a replica of a plaque that will be placed on a boulder at the junction of the IAT and the Loop Road on Katahdin Woods & Waters land later in 2015 – thanks in large part to the generosity and support of Roxanne and Hannah Quimby and Lucas St. Clair.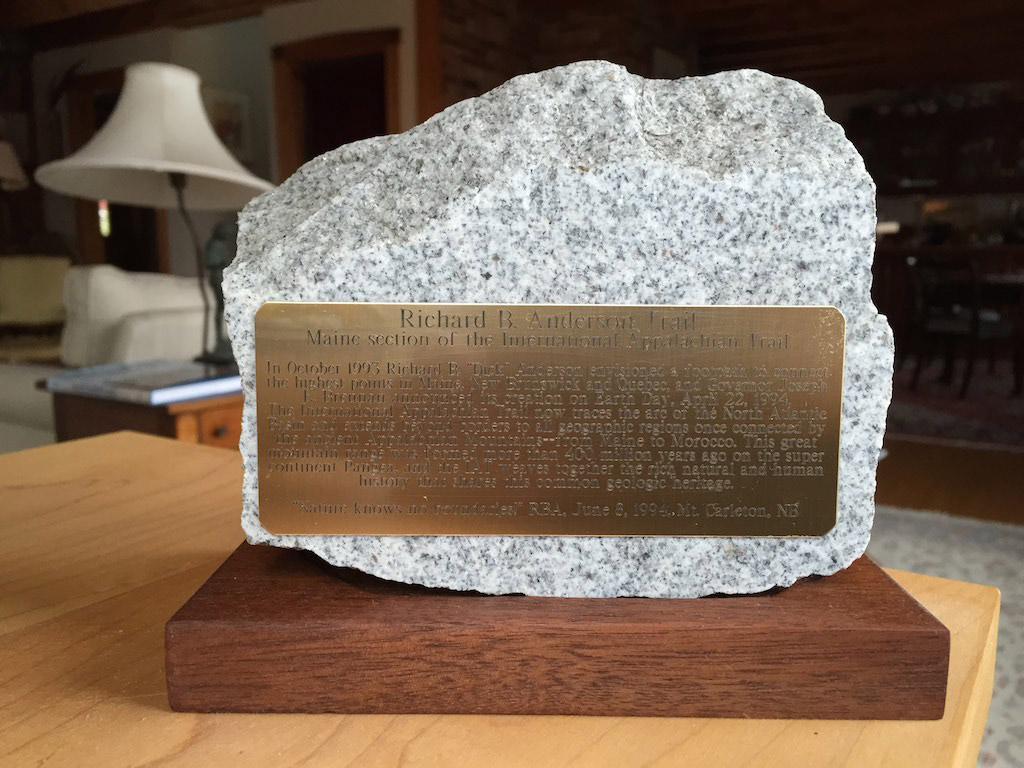 The plaque reads as follows:
In October 1993 Richard B. "Dick" Anderson envisioned a footpath to connect the highest points in Maine, New Brunswick and Quebec, and Governor Joseph E. Brennan announced its creation on Earth Day, April 22, 1994. The International Appalachian Trail now traces the arc of the North Atlantic Basin and extends beyond borders to all geographic regions once connected by the ancient Appalachian Mountains–from Maine to Morocco. This great mountain range was formed more than 400 million years ago on the super continent Pangea, and the IAT weaves together the rich natural and human history that shares this common geologic heritage.
"Nature knows no boundaries!" RBA, June 8, 1994, Mt. Carleton, NB
In addition, Don announced the establishment of the Anderson Fund — an endowment in Dick's name to support the IAT.
Dick was still celebrating the next day with the gang (left to right: Earl Raymond, Thomas Urquhart, Eddie Woodin, Elizabeth Swain, Dick Anderson, Dave Eaton, Don Hudson, Walter Anderson)