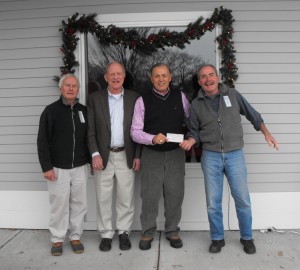 Eddie Woodin presenting check to Maine Chapter President, Don Hudson joined by Earl Raymond (far left) and Dick Anderson
Eddie Woodin recently continued his long-time, major support of the Maine IAT Chapter with a one thousand dollar contribution.
He made the contribution Sunday, December 8th , at the ALL STAR sports pub in Yarmouth, Maine, during the half-time break of the Patriots football game. Eddie and several of his friends, IAT Maine Chapter officers and Board members, and fellow Patriot fans, were holding their collective breaths hoping for another Patriot win (they did win).
Eddie made a point of telling the Maine IAT Chapter folks what a great job they had done as volunteers to establish the trail in Maine and Canada and then to help establish many Chapters in Europe.
Eddie was thanked for his continued support of the Maine section of the trail by Maine IAT President Don Hudson.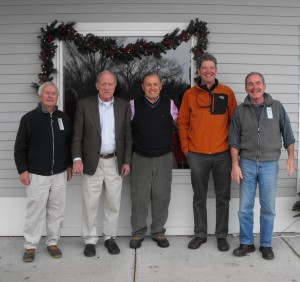 Earl Raymond, Dick Anderson Eddie Woodin, Don Hudson are joined by Tom Brennan, representing another major IAT Maine Chapter suporter, Nestle Waters, North America
The Gang! Watching the Patriots Win!