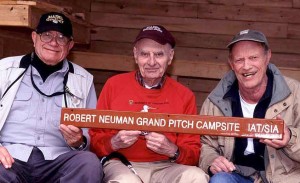 Recently, the family of Robert B. Neuman, Geologist and IAT Supporter, gifted $5,000 to the Maine Chapter IAT to honor their father's memory. With this donation from the Neuman family, The Neuman Fund of the Maine Chapter of the International Appalachian Trail is being established to support trail development and maintenance in Maine. It will continue the work begun by Robert B. Neuman to understand and share the geoheritage of the landscape through which the trail passes.On December 9th, the Maine Chapter Board held an electronic meeting and the following motion was made, seconded, and passed. "By a vote of the Board of Directors, the Treasurer, Dick Anderson, and President, Don Hudson, are authorized to open an account at the Bath Savings Trust Company that will serve as an endowment for the Maine Chapter of the IAT. The endowment shall be created with a $5,000 gift made by the family of Robert B. Neuman, as well as any additional gifts that might come to the Maine Chapter now or in the future in honor of Bob Neuman. The Neuman Fund will be the inaugural fund of the Chapter's endowment". Any additional gifts that come to the Maine Chapter in honor of Bob will be added to this fund. If anyone is interested in making a donation to this fund, please contact
Dick Anderson
or
Don Hudson
. On December 17th, Maine Chapter President, Don Hudson and Treasurer, Dick Anderson met with Tom Whelan at Bath Savings Trust Company to setup the account.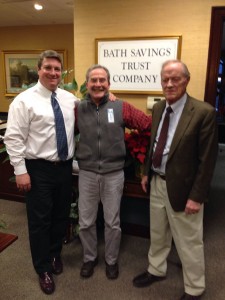 Ed Whelan, Don Hudson, Dick Anderson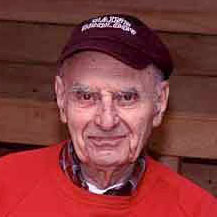 ROBERT B. NEUMAN 1920-2013
Robert Neuman made innumerable contributions throughout his career with the United States Geological Survey and the Smithsonian Institution to the geology of Maine and the Northern Appalachians. His research is recognized by a broad spectrum of the scientific community. He published dozens of maps and research papers in government publications and national and international journals. In the early 1960's he was in the right place at just the right time as his early geological mapping along the East Branch of the Penobscot River confirmed a newly proposed theory of "continental drift", now known as plate tectonics. Bob recognized that marine brachiopod fossils in the nearby Shin Pond volcanic ash were European in nature and quite distinct and separate from their North American shore-line hugging contemporaries far to the west, and brought reality to the postulated seaway (Iapetus) that lay between them. There was then too much deep water that prevented Bob's "Celtic fauna" from swimming across to mingle and interbreed with the North American ones, and vice versa. Bob was the first to perceive this, and his name will forever be linked with the emerging recognition of the 450 million year old Ordovician Iapetus seaway. He was the discoverer of the "Penobscottian orogeny, the early stages of Appalachian mountain building which occurred with the closing of the Iapetus seaway and the subsequent collisions of Europe, Africa and North America. His recognized work and discovery on the East Branch forms a solid scientific foundation for future recognition of the area as a "Geologic Heritage Site"
In 2006, The Maine Chapter of the International Appalachian Trail recognized Bob's contributions to Appalachian geology (the fundamental underlayment of the IAT) by naming the Grand Pitch lean-to on the East Branch in his honor.
Bob led and frequented many geological field trips with the following…."do not risk being left in the woods like Hansel and Gretel. There are no gingerbread houses here".