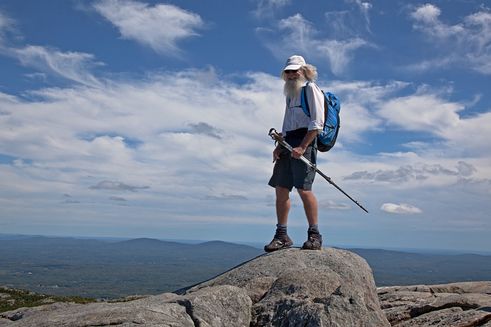 Nimblewill Nomad at the summit of Monadnock Mountain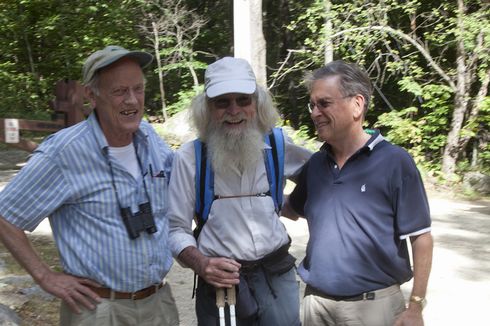 Dick Anderson, Nimblewill Nomad and Rick Guhse
Nimblewill Nomad, the first thru hiker of IAT – Katahdin to Belle Isle completes his trek on the NET (
New England Trail
which makes him the second hiker to complete of all 11 of America's National Scenic Trails! You can read his journals of this hike and all the others at
www.nimblewillnomad.com
.
Dick Anderson, IAT founder and Maine Chapter Treasurer, greeted Nimblewill at the completion of his journey at the foot of Monadnock Mountain in Jaffrey, New Hampshire (shown in photo above of Nimblewill Nomad at the summit of Monadnock and with Dick Anderson and Rick Guhse, Alabama Hiking Trail Society).
Dick has had many adventures with Nimblewill; including trail work on Mars Hill Mountain, an overnight on the summit of Quebec's Mont Logan and oysters in Key West on Scott Gallaway Day. " It was a real honor that I got to be one of the first to congratulate Nimblewill on his spectacular achievement" Dick said. "Nimblewill has added a spectacular feat to his Triple Crown, one that will not soon be equaled. The legendary Nimblewill has made significant contributions to the development of the International Appalachian Trail and all the other long distance hiking trails in the United States". Bill Duffy, Maine IAT Board member, also joined the congratulating group and took the pictures.
Nimblewill, a retired optometrist, born and raised in the Ozark Highlands of Missouri started hiking and backpacking in the early eighties. During that time he hiked a good bit of the Florida Trail and about half of the Appalachian Trail, from Springer Mountain Georgia to Duncannon Pennsylvania, all in jerks and starts over a period of fifteen or so years. In January 1998, he set out on his first uninterrupted long distance hike. That trek began on the Florida Trail, thence continued to the Cliffs of Forillon, Cap Gaspé Quebec, a distance of over 4,000 miles, making him the second thru hiker of the IAT-Katahdin to Cap Gaspe. His second thru hike of the IAT and Eastern Continental Trail (ECT) took him from Key West to the Island of Belle Isle at the northern tip of the Island of Newfoundland making him the first IAT thru hiker to complete Katahdin to Crow Head, Newfoundland/Labrador.
You can read all about Nimblewill's journeys and inspirations in his published books,
Ten Million Steps
and
Where Less the Path is Worn
. These books will fascinate everyone who has ever thought about how romantic it would be to walk for 4,400 miles along the east coast of North America. It is a journey of the mind as well as the body. The Nimblewill tells the story of his journey in a way that deftly mixes practical considerations and philosophical musings.
He is a remarkable man and truly an inspiration to all who love the outdoors.