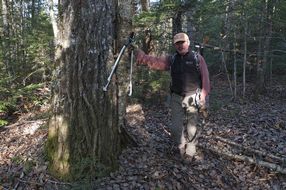 Don Hudson at Work on Trail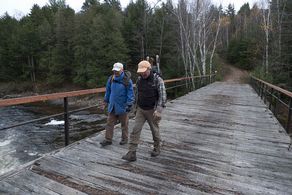 Earl Raymond and Don Hudson Crossing Wassataquoik Bridge
After a couple of aborted attempts to set up a fall work trip primarily due to weather we finally got a group together to attack the high water trail. The original plan was to work out of the Wassataquoik Lean- to but it became obvious that the distance people would have to walk to the work site and return, about 4 miles, would not be feasible. The alternative was to work from Lunksoos Camps and cross the East branch by canoe. This would get us within just over a mile walk the Wassataquoik Bridge and the beginning of the 1.8 mile HWT project. Earl contacted Sarah Spencer and Mark Leathers, and Sarah graciously set things up including permission to use Tom Chase's canoe.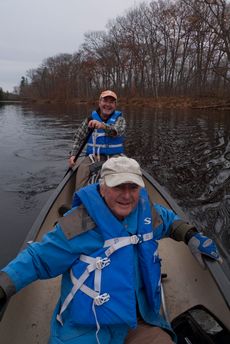 Earl Raymond and Don Hudson Crossing the East Branch
The final work crew included Earl Raymond, Walter Anderson, Bill Duffy, Don Hudson and Cliff Young. The first three left from Falmouth at 6:30 AM, picked up Don in Topsham, and continued on to Sherman Station where we proceeded an additional 10 miles on the Sherman Lumber Company Road. From here it was only 1.6 miles south on the Sebois Road to the camps. We set up camp, got the canoe from storage and headed across the East Branch to Sarah's trail. We were at the worksite, Wassataquoik Bridge, at about 1 PM. We decided to work on the trail until about 3:30 PM, which would allow us to be back at the canoe at approximately 4:30 PM. It was a beautiful day and we got a lot done.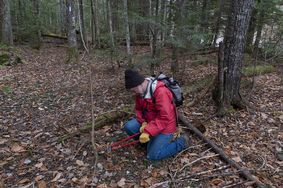 Cliff Young Working on Trail
Cliff Young had driven up and stayed at Lunksoos camp on Wednesday night. He left a note that he would be at the other end of the 1.8 mile trail working downstream along the Wassataquoik toward us. Cliff arrived back at the camps just as we were pulling in at the canoe landing.
Walter prepared his eagerly anticipated beans and dogs and told us unusually scary stories of his days working as the state geologist.
We woke up to a snow squall Friday morning, which quickly turned to a very beautiful day. Don and Bill crossed the East branch and proceeded to the trail. Cliff and Earl drove to the other end of the trail via Whetstone Bridge, a distance of approximately 8 miles, to the infamous monster washout. They put up two signs where the 1.8 mile trail leaves the Wassataquoik Tote Road and proceeded to clear the old road/trail toward where Bill and Don were clearing. They met about 10 AM and continued clearing with Don & Bill to the public lot line. Cliff and Earl returned to the Wassataquoik tote road brushing and flagging along the way.
Cliff & Earl walked up stream along the Wassataquoik Tote Road for about a mile to check the condition of the road. It is in very good condition and did not require any clearing.
The 1.8 mile section of the high water trail follows an old road and did not require any chain saw work. There is evidence of trimming probably done by fishermen who were using the trail to get to the upper Wassataquiok. The last ½ mile on the upstream end will need some trimming but it is not critical.
Chop Suey by Walter for dinner and early to bed.
View of Katahdin
Saturday morning brought a beautiful sun rise view of Katahdin with snow, and Bill took a spectacular picture (included with this report). We broke camp and left via the Staceyville Road. Walt wanted to get a look at the Whetstone Bridge so we diverted the few miles to see it.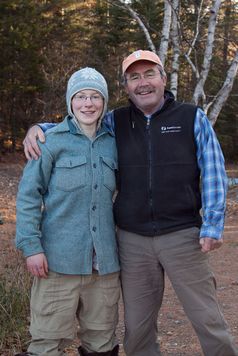 Don Hudson with niece Becca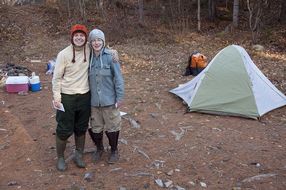 Lily & Becca at Whetstone Bridge Campground
Don had been telling us about his niece who was on an extended canoe trip and, although he did not know when, she would be coming down the East branch. As fate would have it, his niece, Becca, and her friend Lilly were camping at the Whetstone Bridge campground. We were all very impressed with these two young people and they were happy to see Uncle Don.
Successful trip thanks in large part to Sarah & Mark.
The High Water Alternate route is a great section of trail, which will eventually be incorporated into a loop trail system.
Report by Earl Raymond
Photos by Bill Duffy