Summer is here and updates from hikers are coming in!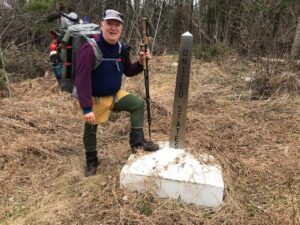 In May, hiker Jeff Ryan and his friend Wayne did a section of the IAT. You can read his trip report at this link: https://www.jeffryanauthor.com/maine-international-appalachian-trail/
Looks like they had a wonderful time, and Dick has asked him to do a presentation on his hike later this year. Jeff is the author of a wonderful book about his adventures hiking the Appalachian Trail, so it should be a great presentation.
"The Maine IAT had been a great choice for the 38th annual hike Wayne and I had done together. Before we even got off the trail at the halfway mark, we determined to come back to finish the Maine section through Katahdin Woods and Waters National Monument in the fall. A trail can't get a higher vote of confidence than that."
On the trail right now is Unwound. He is hiking the Eastern  Continental trail this year, and started the IAT around June 18. He just made it through the infamous beaver bogs and is in Fort Fairfield. (Don't worry, we are working hard on a reroute! That should be happening soon.) He's a brave soul, and having done the Florida trails this year, a little water didn't scare him off. Here is his latest update:
"I'm at the Fort Fairfield lean-to now so I just got through the beaver ponds today. I was committed to wading until I got about chest-deep in the first pond around 130.4 (I'm 5' 11" for reference). That's when I noticed some blue flagging tape that led me around. When I got to the pond around 130.6 I did my best to stay out of the water and bushwhack close to the dam itself, but I did ford it a few times to avoid some unpleasant sections of bushwhack. I just went back and forth along the dam of the second pond wading/bushwhacking until I made it out. The second pond was about waist deep at its highest but that was fairly consistent during the sections I chose to wade in. No leeches to report though, thankfully!"
Robin Patten recently finished her walk of the renewed Ulster-Ireland IAT trail in Northern Ireland. We recently featured Robin on our blog at https://maineiat.org/2021/11/28/hiker-news-part-3a/ and she has since continued her adventure. You can follow her IAT trips, and see some beautiful pictures from her most recent hike at her Instagram page.