William Hart "Bill" Nichols Jr, long time Board member and first treasurer of the Maine Chapter of the International Appalachian Trail, died on July 25th at his home in Falmouth. Born on August 4, 1930, Bill accomplished a lot of things in business and community service during his lifetime and he will be missed by his family, friends and those of us who had a chance to work closely with him to build the IAT.
Bill was recruited by Dick Anderson to be the Treasurer of the newly formed IAT in November 1994 after he served as Treasurer of the Caribou Reintroduction Project in the late 1980's. Bill enjoyed the outdoors with family and friends, and had climbed every 4,000 foot mountain in Maine by the time he and Dick worked together on the Caribou Project.
Bill joined Dick, Don Hudson, Cliff Young, and Alice Arlen in regular planning meetings in Maine, New Brunswick, and Quebec in early 1995, and he developed a strong interest in the success of the project. As the Board grew, and the work of the Maine IAT to establish the trail and build campsites proceeded, Bill's financial management skills and experience came in handy. Bill built and managed budgets that delivered a black bottom line year after year. Bill's careful financial management set a standard that remains today.
Bill enjoyed the regular trips to the Canadian Provinces, especially when they included the hike of a new mountain, such as Mt. Jacques Cartier in June 1995. When Bill passed the Treasurer's responsibilities to Bob Lemieux in the mid-2000's, the IAT had grown to include Newfoundland, and he speculated that we were not done yet.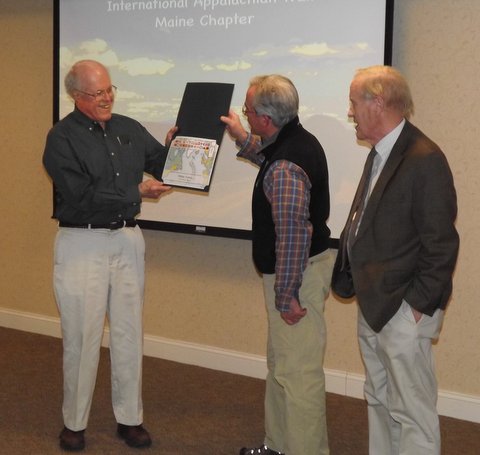 In February 2017, the Maine IAT was invited to make a presentation about the trail at OceanView, a retirement community in Falmouth, Maine where Bill and his wife Anne lived. Dick, Walter Anderson, and Don made the presentation and then surprised Bill with a certificate commemorating his selection as the first Honorary Director of the Maine IAT.
Bill Nichols was a warm and generous person, and a wonderful companion and colleague, who will be sorely missed by all who had the pleasure of interacting with him.
If you would like to make a donation in memory of Bill, and to honor all of the hard work that he did to put the IAT on the map, you can do that on the Maine IAT Donation page.
Dick Anderson