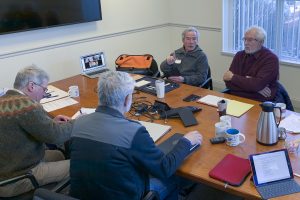 We're about halfway through winter here in Maine and the Administrative Committee (AC) of the Maine IAT is beginning to think about Spring. With the help of video conferencing, the group met simultaneously this week in Freeport, Presque Isle, and Cross Lake, Maine to discuss plans for the Annual General Meeting of the Maine IAT at Shin Pond, website updates, spring trail work, guided trail hikes, fundraising and Walter Anderson's upcoming 90th birthday party! 
The AC selected the dates of May 7th to 9th for the AGM at our usual location, beautiful Shin Pond Village in Mount Chase, Maine. Walter Anderson and Don Hudson will be recruiting speakers for the program and volunteers to help with logistics over the next few months.
Elaine Hendrickson updated the AC on options for guided hikes on sections of the IAT in Maine in the coming year. Suggested hikes include Barnard, Deasey and Lunksoos Mountains (separate hikes – not all on the same day!), Orin Falls, Seboeis River Trail, Sugarloaf Mountain (geology focused), Mars Hill, and Mount Carleton, New Brunswick.
Cheryl St Peter and Don Hudson reviewed our Special-use Permit with the Katahdin Woods & Waters National Monument that allows us to clear blowdowns and perform general trail maintenance in the monument. Look for a call for trail-work helpers in the next few months.
Bill Duffy reviewed the latest Maine IAT website updates (it's all shiny and new) and the work remaining to get the Council (or "International") website up and running.
Finally, plans were begun to celebrate the IAT's chief geologist emeritus, Walter Anderson's 90th birthday on February 7th. More details soon. 
If you're interested in helping with any of the above activities, please contact us!