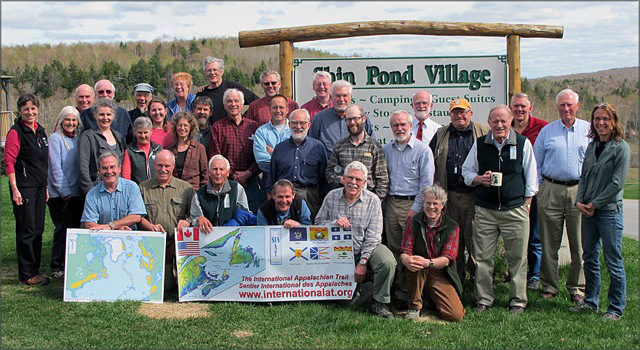 On May 12 – 14, the Maine Chapter IAT held their annual meeting at Shin Pond Campground in beautiful Mt Chase, Maine . Program Manager, Walter Anderson, put together another really great meeting, and we thank him.
On the opening day, Steve Pinkham gave a talk on "Tales from the Maine Woods" held at the Lumberman's Museum. Later that evening, Will Richard gave a presentation on IAT Greenland and the Faroes.
Friday was a full day which included the morning presentation of Don Hudson and Bob Marvinney's trip to Spain, Portugal and Morocco. The trip went very well and Spain is expected to be joining the IAT in 2011.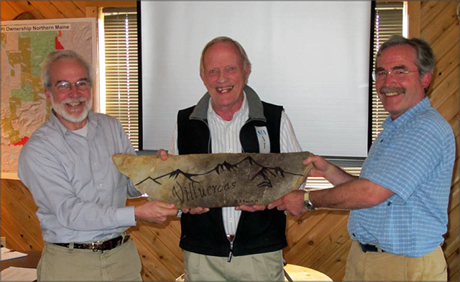 Following this presentation, Douglas Rankin and Tom Weddle presented the "Geology of Baxter State Park Bulletin".
After a short break, Bart DeWolf spoke on the IAT Slieve League Trail and Joe Kelley on the IAT Shetlands. Joe will be traveling to the Shetlands and will meet with representatives about the possibility of them joining the IAT as well.
Eno Bonebakker presented the Appalachian Anti-Atlas Mts in Morocco followed by Bill Duffy's presentation of the new IAT Maps that he developed. The IAT is very appreciative of all the work that Bill Duffy has done in supporting the IAT with his wonderful maps which you can find on our web sites.
After lunch, Jensen Bissell, Director of Baxter State Park, gave a report updating us on the latest happenings at Baxter State Park. This was followed by an informative presentation by Ted Koffman, Executive Director of the Maine Audubon Society, talked about the programs and educational opportunities at Maine Audubon. Don Hudson and Bart DeWolf then gave a lovely presentation of the Birds of the Maine IAT. Mark Leathers from the Sewall Company, gave an update on EPI/East Branch Status.
After the break Dick Anderson talked about the upcoming 10th Anniversary of the Quebec Chapter which is going to be a extraordinary weekend with numerous exciting events planned in October.
The was followed by Steve Norton's "Evolution of Maine's Aquatic Resources and then Herb Hartman and Seth Levy presented the IAT Quebec Field Guide and talked about IAT's presence on Facebook.
Then down to business for the IAT Maine Chapter IAT Business meeting followed by Attitude Adjustment, Dinner and key note speaker George Jacobsen on "The Influence of Climate Variability on Acadian Landscapes".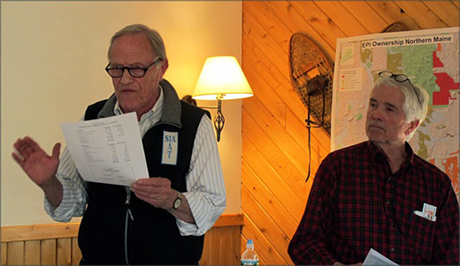 The weekend concluded with a tour, hike and history of Bowlin Camps with a superb luncheon provided by Bowlin.
Everyone is already looking forward to next year's meeting scheduled for May, 10,11 and 12.