Mount Chase Hike, September 23, 2023
On September 23,2023, Maine IAT Member Milt Stein led a group on a sponsored hike up Mount Chase Here's his writeup, in his own words, and pictures from the hike:
We had a wonderful hike. The weather cooperated in spectacular fashion. After the early morning fog burned off, we had a mostly sunny day, light winds, and temps in the high 60's. The only impediment to the view was a haze from forest fires out west. 
Our small group had a lot in common. One member originally from Argentina, one member from a Cuban family, and one member from Brazil who drove from Massachusetts for their first ever hike in Maine! We had a lively conversation along the trail. 
We met this guy along the way.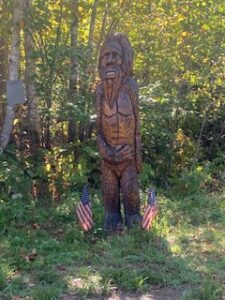 Not much of a conversationalist but a lot of fun!

At the picnic table at the trailhead, Pedro took advantage of the walking staff loaner program and returned it at the end of the hike.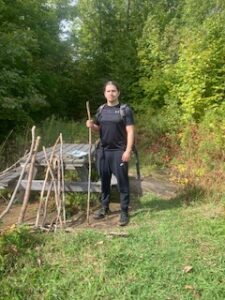 We hiked slowly but steadily upward through the mixed forest of hardwoods and conifers on the tote road which had sections of flowing water, mud, and slippery Rhyolite ledge and stone. One steep spot had a rope to assist. There were a couple of blowdowns also.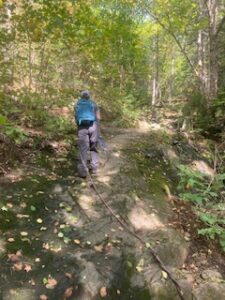 We took our time and didn't have any problems navigating the trail. A little over a mile in we reached a small clearing with the remains of an old fire warden's cabin 
The tote road then narrowed into a trail, and we continued to climb moderately until we reached the open summit of Mt. Chase. Even with the haze, the views in all directions were worth the effort especially the views over the Shin Ponds to the mountains in the Monument (Katahdin Woods and Waters National Monument) and Baxter State Park.
There is also a scientific research station and footings from a long-gone fire tower that once stood on the summit.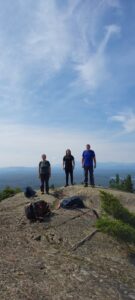 We spent quite a bit of time on top enjoying our lunch and enjoying the views, then reluctantly began the descent back to the trailhead. The entire trip including breaks took about 4 hours. When we got back to our vehicle, hikers were rewarded with IAT pins, bookmarks, and maps which they happily accepted. On the drive out we made a short detour to visit Amy at the IAT booth at the Trails End Festival in Millinocket . A pleasant end to a pleasant excursion.
If you are interested in getting notifications on the Sponsored Hikes of 2024, email us at coordinator@maineiat.org and we will get you on the list!