Long-time friend of the IAT, canoe builder Bill Miller from Nictau, New Brunswick, has passed away. Bill embraced the trail from the outset, supporting and encouraging hikers, and hosting the first lean-to on the trail in New Brunswick at the edge of the woods behind his canoe shop. The first IAT hiker that Bill encountered was Eb "Sunny" Eberhart––the Nimblewill Nomad. Nimblewill's journal account of this encounter follows, and gives us all a glimpse of Bill's kind and supportive nature.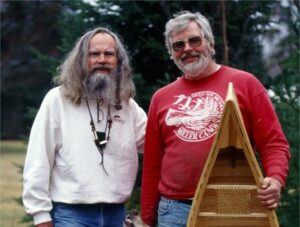 Friday—September 25, 1998
Trail Day—252/12
Trail Mile—3768/206
Location—Park Offices, Mt. Carleton Provincial Park, NB Canada
I'm up at 7:30 a.m. and Evelyn sends me on my way with a fine bacon and eggs breakfast. In just a short way the road crosses the Tobique River and here at the bridge a lady stops her car, rolls down her window and hands me a fancy half-pint jar of apple preserves. She says she saw me hiking into Riley Brook yesterday and has been told of my unbelievable adventure. I thank her kindly and put the little treasure in my pack to savor later.
Just a short distance above the bridge is Marie's lovely home. I will not see her again, as she will be away this weekend so I stop and leave a little note of thanks for the warm hospitality extended me.
In a short while I'm at the little community of Nictau. As I pass this lovely farmhouse I'm greeted by the ambassador of the household…the family dog. His barking brings some folks around and from behind the house. My wave and greeting is returned by an invitation to stop and come in. So I break my stride, snap my Leki poles together and cross their large, manicured lawn. Here I meet William V. Miller, III, his sister and her husband, Julie and Marty McCrum, Bill's mother Wilma and her two brothers, Lionell and Jim Clark. Bill's brother Jim is also present. I am whisked into their lovingly-cared-for and spacious old farm home and urged to sit right down at the dining room table. Then the questions—about who I am, where I'm from and where I'm headed. Sooo, as briefly as I can I recount my story once more. It's then I mention meeting Marie-Josee yesterday…on her way to a funeral in Plaster Rock, and that the folks at the park were expecting me, so I must not tarry long. That's when Julie mentions that the funeral Marie-Josee was attending was for her father William V. Miller, II.
I put my head down, blush and feel ashamed for what I've just said, to be in such a rush. These folks have just buried a dearest family member, and even now during their time of grieving, have opened their home and extended their kindness and hospitality to a passing stranger! Well, I relax, sat back in my chair and chat while enjoying the hot tea and cookies placed before me. Looking out the picture window beside the dining room table the sun is setting the mountain ablaze across the valley. As we all marvel at the beautiful fall colors I mention that I could not possibly repay them for the kindness they've extended me, but if they would gather 'round I would recite the inspirational poem about Ma Nature's Paint Brush. There became a hush and my voice lifted and carried the message about the magic spell of fall. I know now, this poem about fall was inspired and written for this occasion. With tears in most every eye, this wonderful family—none ever having wished to be brought together under such circumstances, share a poignant, very special moment together. Thank you, Lord for bringing me here today to be where you have lighted and guided my path and to share with these kind, most generous people.
Bill Miller, III is a craftsman, a builder of wooden canoes, a vanishing art passed down from his father and grandfather. He shows me his shop with all the wonderful old tools, and some of the projects on which he's currently working. Bill is not content just to build these works of ancient art. He fells the trees from his own wood lot and runs the strips, boards and planks on his own sawmill. While Bill is showing me around, Julie is putting a little package together for me to take along; apples from their trees, preserves made from berries picked on the farm, and syrup, the purest and sweetest maple syrup I've ever tasted. Yup! Boiled down from the sap of their own birdseye maple trees right here on the homestead!
The Tobique Valley is indeed a special place, fixed it seems permanently in time, when time with family and friends was the most important thing, when those with skill of hand took pride, bringing joy and satisfaction; when a hard day's work was always expected and always received and when fierce independence and right judgment was keen. These folks are of that time and tilt long past. I know they've never wavered from it—standing tall and proud. What a blessing being here with them, if for but a brief, brief day! I am sure that as I write this, plans are underway to take the trail from this valley roadwalk to the woodlands and ridges all along. Soon, many will thru-hike this grand SIA/IAT, but a hundred could pass here every day and the kind and gentlefolk in this valley would certainly welcome them as they have me and each intrepid could experience the joy and pleasure in passing through this grand and proud old valley. But alas, it certainly will not endure.
I have been overwhelmed by the hospitality, friendship and generosity extended me by all the folks I have met since crossing the border at Fort Fairfield into this beautiful country of Canada. As I approach Mt. Carleton Provincial Park a vehicle passes, turns about and then pulls alongside. Here I meet Bertin Allard and Jean Francois Paulin. Bertin is the Superintendent of Mt. Carleton and Jean Francois, one of the Park Wardens. With warm, friendly smiles I am again welcomed to Mt. Carleton Provincial Park! I am offered a ride on into the park, the kind offer to which I politely decline and as I hike on I am at the park entrance reception building within the hour. As I approach the visitor's center I am overwhelmed again. Out on the deck come all the folks working at the park. While Jean Francois has his camcorder running, Bertin introduces me to Guy Belanger and Larry Dyer who work in maintenance, Nadine Perron, Steven Theriault and Rhonda Pelletier, gate attendants. I am then invited to continue on to the park office where Larry will prepare an evening meal for Bertin and I! I hike this final distance quickly and am greeted again by Bertin in the office parking lot. Not only am I treated to a great supper of pork chops and fried onions but am told that I will be staying in their private warm bunkroom while here in the park. Bert familiarizes me with the park and the trail system before departing for home and family and I'm able to take a luxurious hot shower before settling in for the night. What an amazing, amazing day!
MA NATURE'S PAINT BRUSH
Ma Nature's got her paintbrush out,
Brushin' o'er the green.
From her palette, every hue,
To brighten up the scene.
In red and orange and yellow,
She paints so brilliantly.And there, a touch of umber,
She threw that in for me.
Now what's all this excitement?
It happens every fall.
It's nothing but a rerun,
In case you don't recall.
Well, we've seen the work of masters,
Hanging in our galleries.
But none can match Ma Nature's hand,
When she paints autumn's trees.
Ahh, 'tis a magic time of year,
A spell cast over all.
For all the seasons we hold dear,
The best, by far…is fall.
[N. Nomad]