Highlighted by a blaze of fall colors, Board Members of the Maine Chapter of the International Appalachian Trail (MIAT) traveled along the Mohawk Trail (Rt.2) to Williams College, Williamstown, Mass. to attend the 3-day Annual 35th Gathering of the Appalachian Long Distant Hikers Association (ALDHA).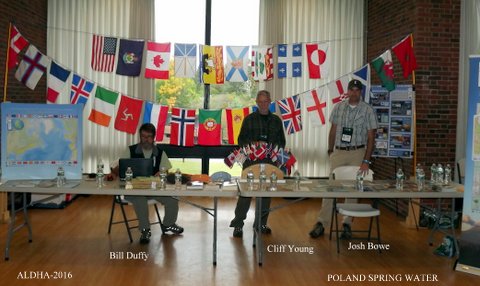 The MIAT participants; Dick Anderson, Walter Anderson, Cliff Young, Bill Duffy, and Josh Bowe, arrived Friday noon at Greylock Hall to assemble our assigned information/display booth, strategically located next to the ALDHA registration table and with prominent visibility and ready accessibility for visitors. Attendance at the "Gathering" was designated at 500 souls.
In addition to our information booth, the ALDHA program included two 1 ½ hour slots for five MIAT power point presentations: (1) IAT History & Deasey Mt. Historic Fire Cab Designation (Dick); (2) Pioneers in Appalachian Geology (Walter); (3) IAT AGM in Ireland & Northern Ireland (Walter); (4) Hiking the IAT in Greenland (Bill); (5) Katahdin Woods & Waters National Monument (Walter). All were well attended. Attendance for presentations 4 & 5 were packed with standing room (50+) & well applauded. The mention of Roxanne Quimby was greeted with standing ovation and cheers!
A variety of interesting folks visited our booth over two days including, several of whom recently hiked the IAT in the British Isles on the West Highland Way, Great Glen Way, Cape Wrath and the Ulster Way. Ron Tipton, Director of the Appalachian Trail Conservancy (ATC) and Sandi Mara, Chair of the ATC Board of Directors and her husband Chris honored us with a lengthy visit and discussion. A famous long distant hiker, trail name "Billy Goat" stopped by and informed us that he was 2300 miles short of a total of 50,000 miles hiked!
This ALDHA 3 day event was, as usual, a great way to meet and network with a lot of avid long distant hikers and inform them of IAT news and hiking opportunities.