Cheryl & Kirk St. Peter.
If you are looking for a winter adventure that's great fun in a beautiful, uncrowded wilderness area, then plan a cross country ski trip in the Katahdin Woods & Waters Recreation Area (KWWRA- http://katahdinwoods.org/visit/), on part of the IAT-ME between Matagamon and Bowlin Camps as soon as possible! You can tailor the trip to your liking and can combine wonderful home cooked food and comfortable lodging with wilderness adventure and rustic lodging, beautiful scenery, and even snowmobiling, if desired.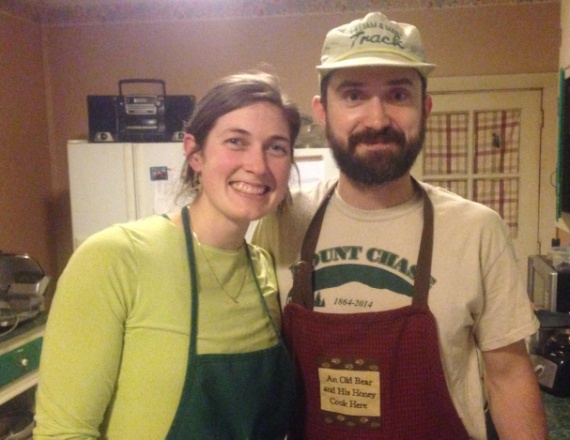 Lindsay & Mike Downing at Mt. Chase Lodge
Over the Martin Luther King weekend, IAT-ME Board Members Kirk and Cheryl St. Peter, headed to the Shin Pond area for the grand re-opening of Mt. Chase Lodge (
http://mtchaselodge.com
/) by the new owners, Lindsay and Mike Downing, and decided to combine it with a cross country ski trip, which made the weekend a complete blast! You can either plan the trip yourself or get pampered and go with Lindsay and Mike on a guided hut trip
(http://mtchaselodge.com/xc-skiing
/), where they do all the planning and cooking!
Either way, you'll want to stay overnight in one of two free backcountry huts (either Haskell Hut or Big Spring Brook Hut, or both) along the groomed trial, excellently maintained by Mark and Susan Adams, KWWRA Managers. If you plan a trip on your own, contact them at
lunksoos@gmail.com
or 207-528-4042 (until April), to see when either or both of the huts are available. Trail maps are available on their website and they will email you mileages and a hut usage FAQ. Both huts have wooden sleeping platforms, a propane cooktop and lights, a woodstove, pots/pans, dishes, cups and cooking utensils. Haskell Hut can sleep up to 8 and Big Spring Brook Hut can sleep up to 16.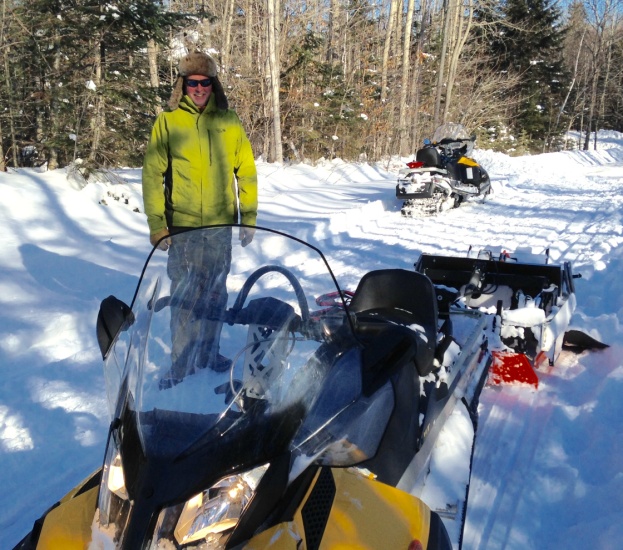 Mark Adams just heading out to groom the trails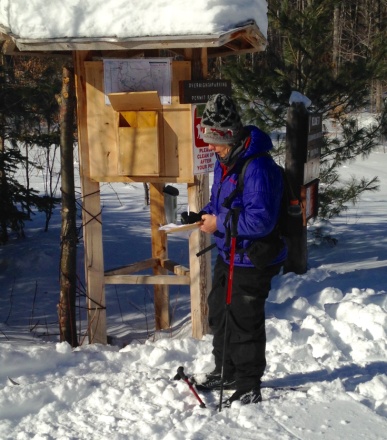 Registering at Matagamon gate kiosk
Matagamon Wilderness (
http://www.matagamon.com
/) is located just across the river from the northern trailhead and the friendly Christianson family who owns it will shuttle your gear to a hut for you ($25pp round trip) and start a fire in the woodstove, so you can carry just a daypack with water, snacks and emergency gear and arrive at a warm hut! You can also get a home cooked meal at their "Momma Bear's Kitchen," resupply in their store, and/or stay in one of their comfortable cabins before and/or after your ski trip.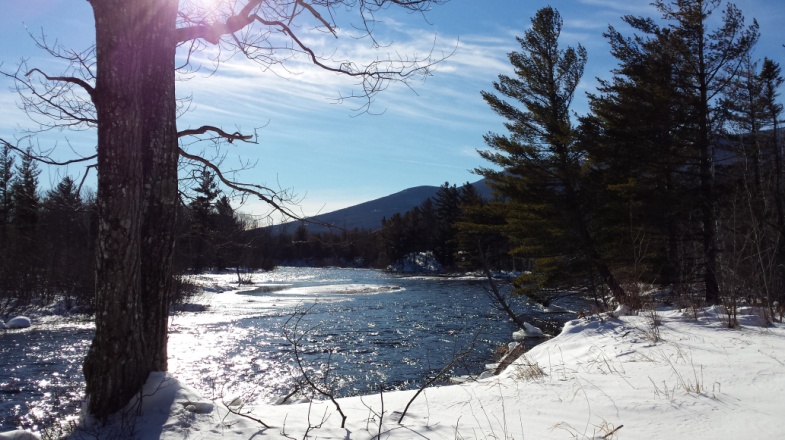 Beautiful East Branch of Penboscot River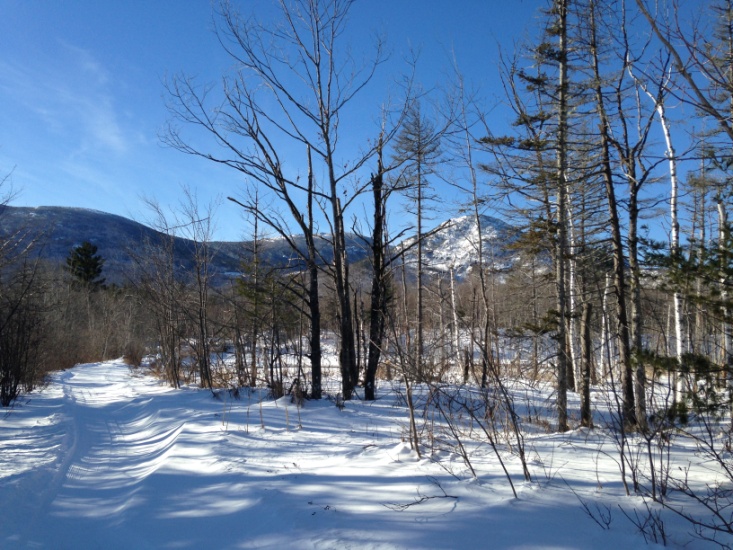 Northeast Mountains of Baxter Park, including the Travelers
On the way in to Haskell Hut or after you get there, take the groomed ½ mile side trail to Stair Falls, "…the handsomest falls I ever saw…as regular as a Stair Case" according to Jonathan Maynard, Surveyor, on September 11, 1793.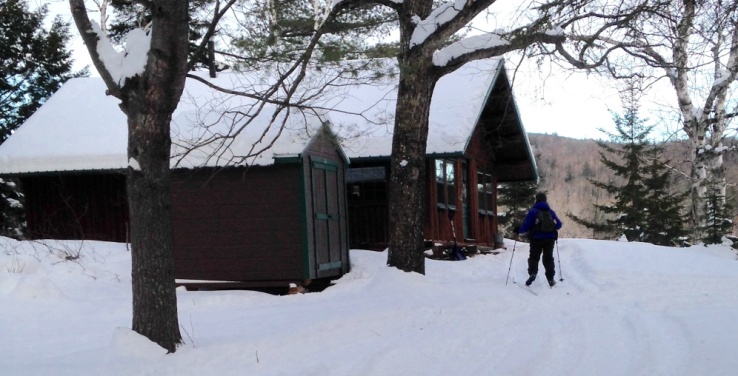 Getting to a warm Haskell Hut
Just 0.7 mile south of Haskell Hut is Haskell Rock Pitch and Haskell Rock, also well worth a visit, either as a side trip from the hut or on your way 5 miles south to Bowlin Camps (http://www.bowlincamps.com/), where you can leave a vehicle earlier for just $10 overnight, get a meal and/or spend the night in one of their comfortable cabins, or you could even have Mt. Chase Lodge shuttle your vehicle there for you.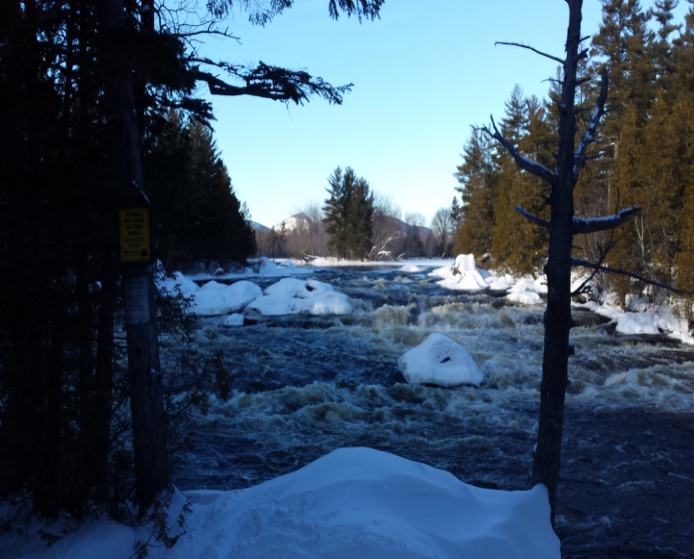 Haskell Rock Pitch
After spending a quiet night at Haskell Hut by the woodstove, reading all the hut journal entries, listening to music, and heating our dinner on the woodstove (although the propane stove was available, why start it?), Alan Christianson arrived promptly at 9 am the next morning, as requested, to pick up our gear and we skied the 5½ miles back to Grand Lake Road on the IAT (Messer Pond-Orin Falls Tote Road). On our way out, we met four other skiers coming in – two staying at Haskell Hut for two nights with four other friends and two staying at Big Spring Brook Hut for the night.
We had a wonderful lunch in Momma Bear's Kitchen, then drove to Shin Pond and checked into Cabin #3 at Mt. Chase Lodge. We cheered as the Patriots beat the Chiefs on a big screen TV in the welcoming lodge with Rick and Sara Hill (Lindsay's parents and the previous owners) and three snowmobilers who were in Cabin #4 (well, honestly Kirk cheered and I checked emails). Mike and Lindsay cooked a fantastic three course meal for us while everyone else watched the game and although we had to pause the game to eat, it was well worth it!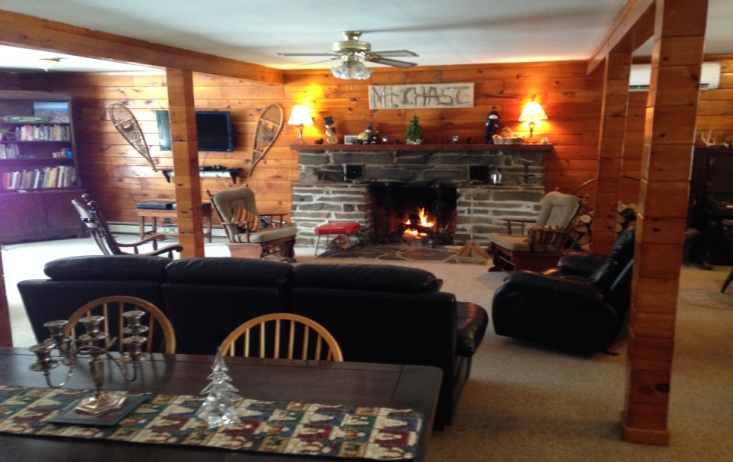 Welcoming Mt. Chase Lodge
The next morning, after a filling breakfast in the lodge, we drove to Bowlin Camps, parked our truck, and snow shoed across the Bowlin bridge over the river with our skis on our backs up the first mile of the trail north to where Mark Adams had groomed (a few remaining wet places and insufficient snow until the recent storm had prevented his grooming the last mile to Bowlin). From there, we skied 4 more miles up to Haskell Hut and back, again with some excellent views of the Travelers in Baxter.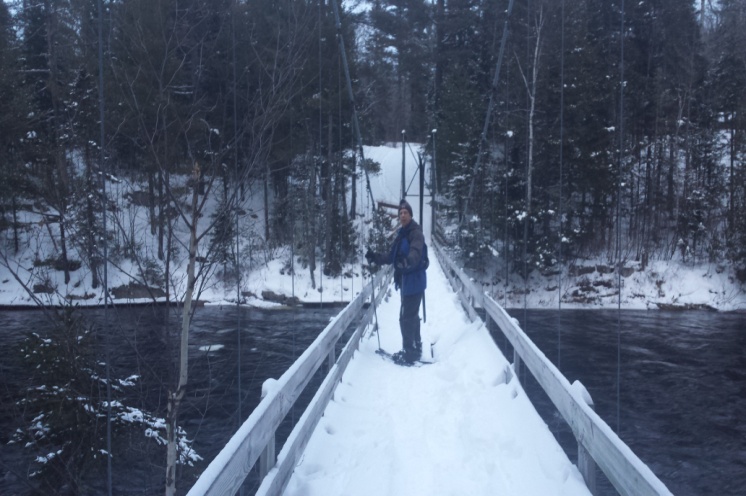 Crossing Bowlin's Bridge over the River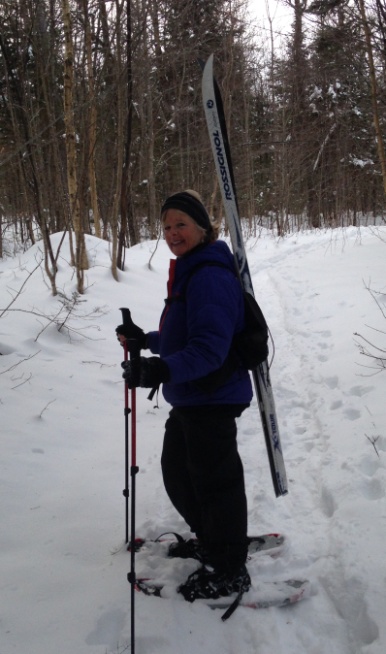 Snowshoeing with Skis
After another night in a cozy cabin at Mt. Chase Lodge and a filling breakfast there, we said our goodbyes to our wonderful hosts, wished the new owners well, and met with Chuck Loucka, owner of Katahdin Lodge (http://katahdinlodge.com/) on Route 11, and president of Knowles Corner ATV club, to get additional information from him about re-routing the IAT off the roads and onto the ATV trails through the woods from Shin Pond to Monticello. Chuck is incredibly welcoming, also has a great lodge and cabins, and provides family-style meals to guests, whether hikers, hunters, snowmobilers, or skiers!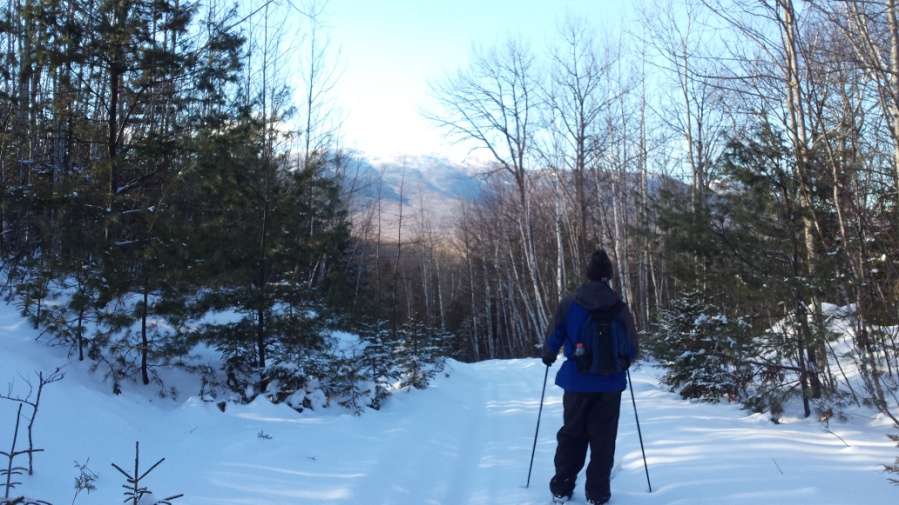 Heading north from Bowlin with Travelers in the distance
To round out this amazing northern Katahdin region, Shin Pond Village (http://shinpond.com/) is also located in Shin Pond on the way to Matagamon. Owned by Terry and Craig Hill (Rick Hill's brother, no less), this facility offers camping, cabins, and suites, with a general store, gift shop, guest area with satellite TV, a full service dining area, and gas for snowmobilers and vehicles. We've stayed there many times in the past and have thoroughly enjoyed every visit.
Between the five first rate facilities for lodging and meals, the incredible views and unlimited opportunities for recreation in any season, our only question si how soon can we plan our next visit to this remarkable area? If you haven't been to this area recently or at all, you are definitely missing out on one of Maine's most beautiful and welcoming wilderness areas. So.. when is your next visit?