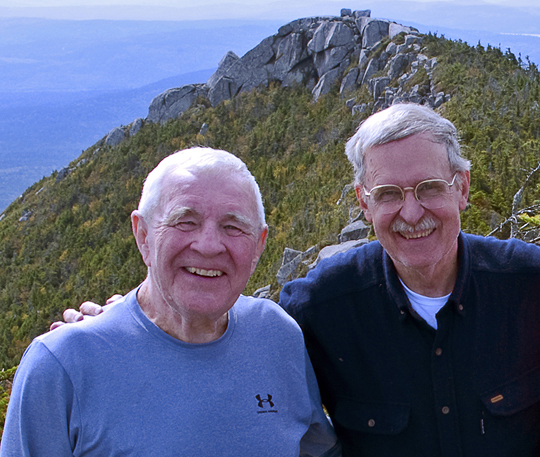 John Neff, and Howard Whitcomb will be presenting at the North American Annual General Meeting – June 5-8. They will take us on a photographic journey into the heart of this mountain dominion and the park that so nobly embraces it. The journey will move from the native peoples who so revered Ktaadn as a sacred place, to those who, in the present day, walk in its shadow and find an inner strength,. They will share some of the rich cultural history that makes this massif, where the IAT/SIA begins its remarkable journey, so incomparable.
John Neff is a retired pastor of the United Methodist Church and lives in Winthrop, Maine. He is the author of Katahdin: An Historic Journey, published by Appalachian Mountain Club Books in 2006. He first climbed Katahdin in the early 1960s and was for 30 years the maintainer of five miles of the Appalachian Trail within Baxter State Park. He is past president of the Maine Appalachian Trail Club and the founding president of the Friends of Baxter State Park.
Howard Whitcomb is Professor Emeritus of political science at Lehigh University.He is the author of Governor Baxter's Magnificent Obsession; A Documentary History of Baxter State Park, 1931-2006. He also compiled and annotated a four-volume set of original materials on Percival P. Baxter's Vision for Baxter State Park. Howard's park experiences date back to the early 1950s when he climbed Katahdin three consecutive summers.
More information will be posted and mailed regarding registration and the event.
Mark your calendar for June 5 – 8!
(For those of you using social media to converse about the event, please reference #NAAGM, as we will be gathering various posts in the program Storify)