Maine IAT Chapter Board members, Dick Anderson and Earl Raymond, attended a very special event on Friday, November, 15, 2013, the one hundredth birthday of Ed Werler!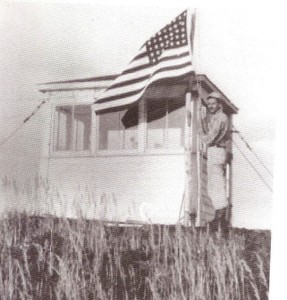 Ed Werler, on watch at Deasey Moutain fire cab, 1947
Ed was the fire watchman on Deasey Mountain from 1947 to 1950. He and his wife, Mary Jane, moved from Connecticut to Stacyville, in 1947. While serving as the watchman, Ed and Mary Jane lived in a cabin (now in great disrepair) on the trail to the summit, had a small garden, and carried their supplies up from the East Branch of the Penobscot River. Now owned by Elliotsville Plantation Inc., the lookout is on the International Appalachian Trail and EPI has supported Maine Chapter IAT volunteers in repairing and maintaining it.
The lookout is also on Maine Chapter of the Forest Fire Lookout Associations' (
www.firelookout.org
) register of historic lookouts.
Recently, a group IAT volunteers, geology students from the University of Maine in Farmington, repainted the lookout. Dick and Earl gave Ed a picture of the newly-painted lookout cab at the birthday party and also gave him an insulator from the phone line that used to go to the top of the mountain.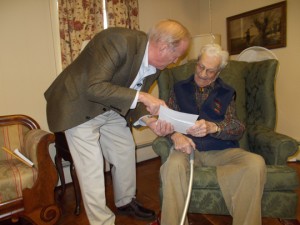 Dick Anderson presenting photo to Ed Werler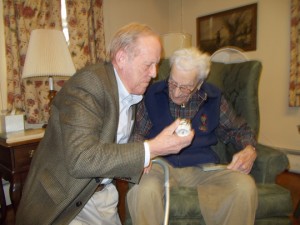 Dick Anderson presenting insulator to Ed Werler
Ed loved the picture and thanked Dick and Earl profusely. Ed has written a book, "
The Call of Katahdin
" about his life on Deasey and working as a ranger at Baxter State Park and for the Maine State Park system. The book is available from
Amazon
.
Earl and Dick had a great time at the party and promised Ed that IAT volunteers would take good care of his old lookout.
Dick Anderson