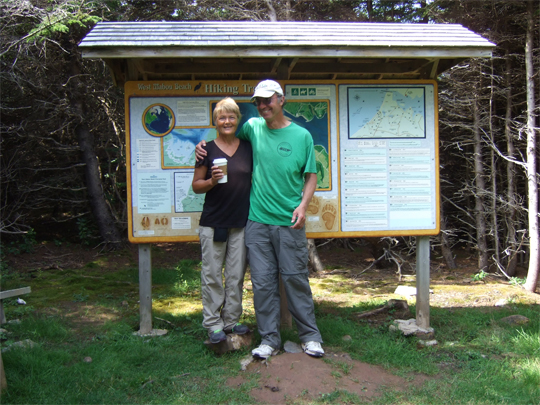 Ed & Julie at head of Mabou Beach Hiking Trails
Long distance walkers, Ed Talone and Julie King, have been walking on Cape Breton Island, Nova Scotia, the past two weeks. Ed started his hiking voyage in Key West Florida in 2011. After 6,500 kilometres later, Ed arrived in Bangor, Maine, at the same time Julie King was hiking through the International Appalachian Trail.
And so the journey of Ed Talone and Julie King began at Baxter Park, Maine in May 2013! Now it is the end of August, 2013 and they have hiked over 2,300 km. If you calculate Ed's hiking distance, it adds up to more than 8,800 km of hiking. Just ask Ed how many bridges he crossed!
The part of the International Appalachian Trail that Ed and Julie are hiking extends from the northern boundary of the Appalachian Trail at Mount Katahdin, Maine, through New Brunswick and parts of Quebec and Nova Scotia. It extends to the northeast point of the Appalachian Mountains in Belle Isle, Newfoundland.
They are hiking and establishing new routes along the way. Areas considered are where existing Appalachian rock or the underlying bedrock has some association with the Appalachians.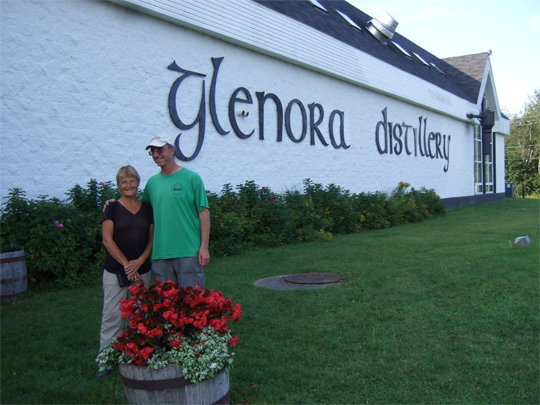 Ed & Julie at Glenora Distillery
While in Cape Breton they took a day off from hiking the Celtic Shores Coastal Trail and toured around parts of Inverness County. They stopped into the Red Shoe in Mabou and were treated to wonderful, traditional Scottish music. They continued along route 19 to Glenora Distillery. The Glenora Inn and Distillery is North America's first Single Malt Whisky Distillery and continues with pride and determination after winning a nine year legal battle with Edinburgh based Scotch Whisky Association. Interesting! Do you think that at the September IAT Conference in Scotland anyone will test their whisky or bring a bottle from Glenora?
They continued on to Inverness and promptly went to the Tourist Bureau and met with the local press across the street, a reporter from the Inverness Oran. The Inverness Miners Café was an interesting café they had a visit in on the main street in Inverness. Ed and Julie took a quick glimpse of the Cabot Links, Canada's only authentic links golf course. At Cabot Links, every hole offers an ocean view and six holes play directly adjacent to the beach.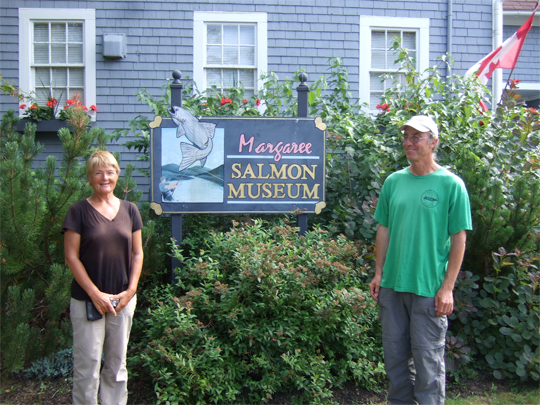 Ed & Julie at Margaree Salmon Museum
After leaving Inverness, they went on to Margaree and had a great lunch at the Dancing Goat. They enjoyed delicious coffee, fresh made sandwiches/salads and carrot cake. One of Julie and Ed's favorite stops was the Margaree Salmon Museum. Here they were pleasantly surprised to see many artifacts that the founder of the International Appalachian Trail, Dick Anderson, had donated to the Margaree museum. It seemed that every turn Julie and Ed took in the museum they came across some of Dick's artifacts.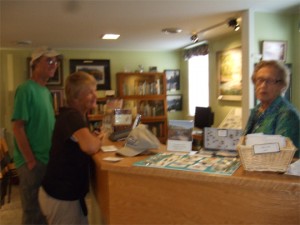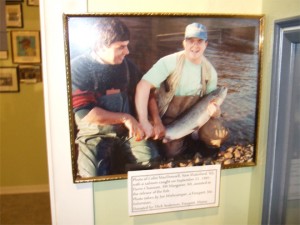 Ed & Julie chatting with Ms. Frances Hart the curator of the Margaree Salmon Museum
Thanks, Dick, for leaving your footprint in Margaree, NS!
From Margaree, NS, they took a scenic tour around part of the famous Cabot Trail and then back to The Clove Hitch Bar and Grill Bistro, located in picturesque Port Hood, NS. The owner was very accommodating, keeping Julie and Ed's backpacks while they toured around Inverness County. They enjoyed a meal at the bistro and Ed enjoyed some Garrison Red beer.
They left the bistro and walked (with a jug of water and some groceries) up to their campsite. Their campsite was located at the trailhead on the Celtic Shores Coastal Trail, Port Hood, NS. There are over thirty trailheads and access points along this trail. Julie and Ed enjoyed all the community information on the trailheads along the way. They caught up on community news with a friendly biker and camped at her house and had breakfast with another friendly walker who accompanied them with her dog for a short distance.
Julie and Ed thought that the Celtic Shores Coastal Trail was a wonderful inclusion in the International Appalachian Trail!
People continue to have sightings of Julie and Ed on their walking adventure of the IAT. The last reports were on the streets in Inverness, NS and Cheticamp, NS.
Ed and Julie in Craigmore just below Christie's Lookoff
Please say "Hi and Bon Voyage, Julie & Ed!"
Follow Ed and Julie on: www.edjuliehikingadventures.shutterfly.com