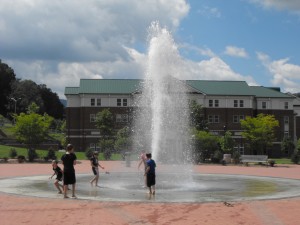 WCU Campus
Maine Chapter members Dick Anderson, Walter Anderson and Don Hudson traveled to Western Carolina University in Cullowhee on July 19th to participate in the 39th Biennial Conference of the
Appalachian Trail Conservancy
. Cullowhee, North Carolina is nestled in the foothills west of Ashville, southeast of the Great Smoky Mountains in Tennessee. The crew from Maine managed a booth for the IAT in the exhibit hall and made a presentation about the history and growth of the trail on the last evening of the conference, July 23rd.
Conference participants were in residence from July 19-26. A full program of workshops, field sessions and hikes was organized by representatives of the five hiking clubs that maintain the southern end of the AT, the Carolina Hiking Club, the Georgia Appalachian Trail Club, the Nantahala Hiking Club, the Smoky Mountains Hiking Club, and the Tennessee Eastman Hiking and Canoeing Club. Longtime ATC board member, Lenny Bernstein, chaired the ATC 2013 Steering Committee. Lenny should be pleased with the results of all the effort that went into planning the conference. For more information about the ATC and the biennial conference, go to
www.appalachiantrail.org
.
IAT Maine Chapter President, Don Hudson at the IAT Booth
The IAT booth in the exhibit hall was festooned with the flags of the 20 chapters, and it attracted significant attention from the 938 conference participants. Maps and flyers for the North American chapters were in high demand, as were materials describing hiking opportunities across the arc of the North Atlantic. A pocket companion for the West Highland Way in Scotland, the first European trail to link to the IAT in 2010, flew off the table. As interest in the IAT grows in the United States, it will be important for each of the chapters to develop a simple flyer and map to introduce hikers to opportunities in Canada, Greenland, Iceland, the Faroe Islands and the many chapters in Europe.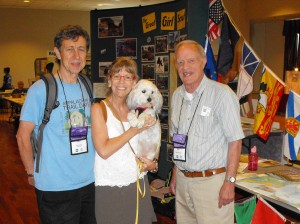 Dick Anderson congratulates Ron Tipton and his wife, Rita Molyneaux, on Ron's appointment as Executive Director/CEO of the ATC
In addition to the enthusiastic response of the conference participants to the growth of the IAT in Europe, several ATC board members expressed interest in developing closer ties between the AT and IAT. A representative of the AT will attend the IAT Annual General Meeting in Loch Lomond, Scotland in September, and other collaborations will most certainly emerge in the virtual and real worlds.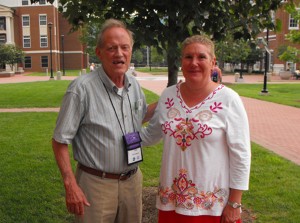 Dick Anderson and ATC Board Chair Sandy Mara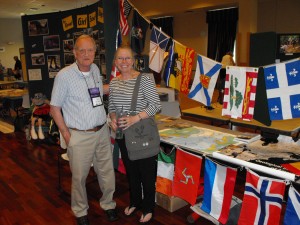 Dick Anderson and ATC Board Secretary Betsy Thompson
The Maine crew also enjoyed catching up with Larry Luxenburg, Founder of the Appalachian Trail Museum, Bill O'Brien, Newsletter Editor, and Mike Wingert, Chair of the Board of the
Appalachian Long Distance Hikers Association (ALDHA)
. The IAT has worked closely with ALDHA since 1995 to help promote the trail and long distance hiking. The ALDHA Gathering will be in Shippensburg, Pennsylvania in October.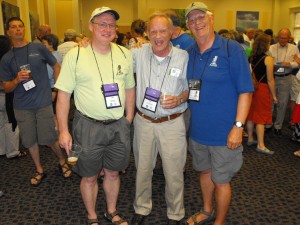 Bill O'Brien, Dick Anderson and Mike Wingert
The 40th Biennial Conference of the ATC is scheduled for Shenandoah University in Winchester, Virginia, July 17-24, 2015. The IAT will be well represented.