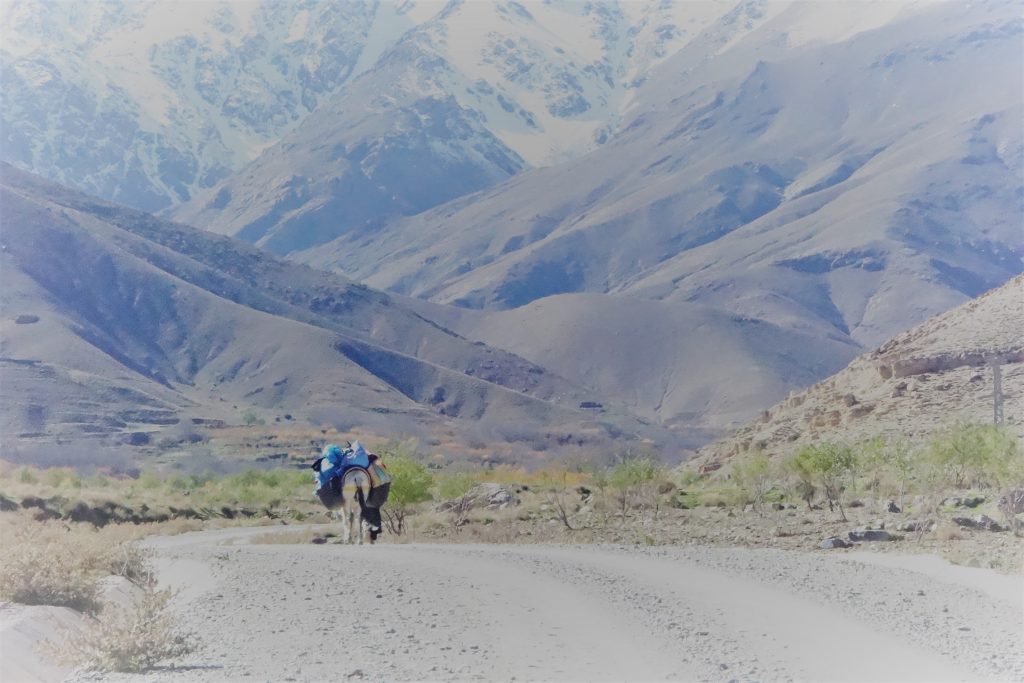 This didn't use to be my idea of hiking, but I'll take it. We were sitting on a rooftop terrace sipping Moroccan tea and looking out at a huge expanse of the High Atlas Mountains. Nearby was a big herd of sheep and lots of rocks and not much else.
From the time we'd gotten off the plane in Marrakesh, nearly everything we saw or did was something strange and wonderful and nothing like what I'd be doing back home. The mountains are beautiful and the people hospitable and the food exceptional.
My friend Jim Kern, founder of the Florida Trail, had planned the trip and then casually mentioned it to me in the same way that someone dangles catnip in front of a cat. It didn't take me long to sign up.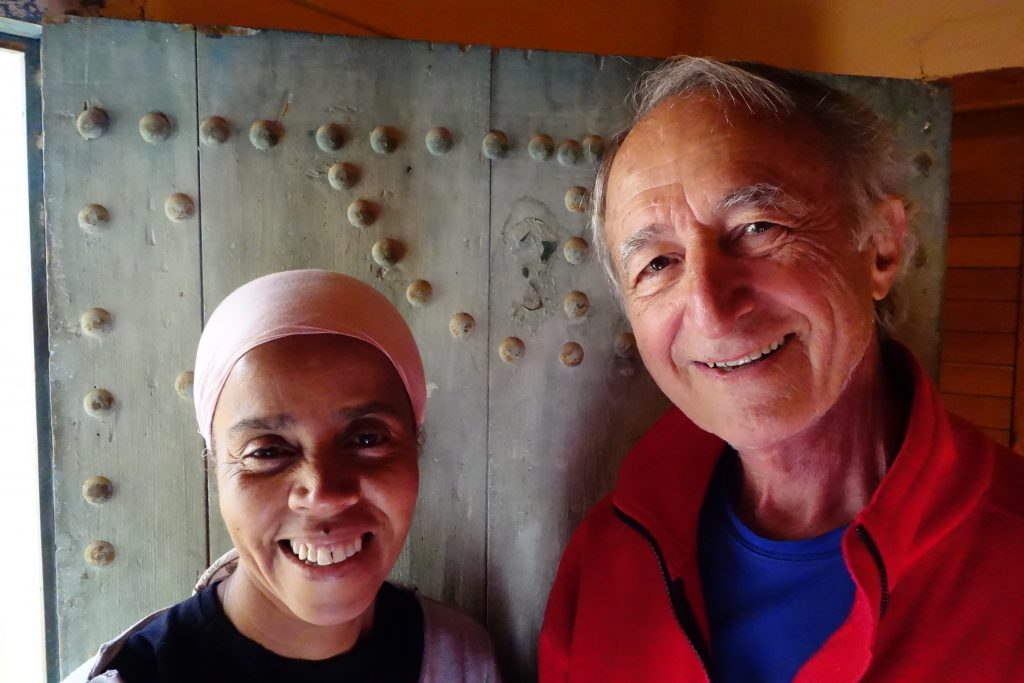 Our jumping off point was the mountain town of Amizmiz, an hour's drive from Marrakesh, the tourist center of Morocco. Once there we met our guide, Latifa Asselouf, and our mule driver, Brahim, and our mule, Whitey. We didn't know what to expect and hadn't realized that we would have a mule and wouldn't be carrying much. Whitey made up for it, carrying great quantities of food, fuel, water and everything else we needed.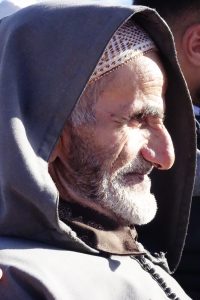 We started out right from our guide's house in town. Across the street was a dirt track and we were soon winding our way up the hill. Before long we came to a shed where a donkey was powering an olive press and potters used a foot pedal to power their wheel. Later we popped in on a one-room school house and heard the children recite lessons and sing and then had lunch at the home of a Berber family. At nightfall we were high in the mountains in a small Berber village staying at the home of a family.
The IAT has had a foothold in Morocco for a half dozen years with an initial route from near Marrakesh south to the ancient walled city of Taroudant. Eventually the trail could run 1,000 miles or more along the crest of the Atlas Mountains, from the Mediterranean Sea to the Sahara Desert. The snowcapped mountains soar to nearly 14,000 feet and are dotted with miles of ancient paths.
There's no concept yet of a long-distance trail or of marked footpaths in general. Local people make use of the paths for transportation, not recreation for the most part. Since they know where they are going, there's no need to mark the main paths or the many alternates.
Right now, there are about 80 licensed guides in Morocco including 7 women. Latifa was one of the first two women and is an exceptional guide. Guides are strongly recommended. The mountain people are very conservative and have a strong culture. Unlocking the secrets of this culture is not easy and it's also easy to run afoul of their traditions.
Not long after our trip two Scandinavian women were murdered near the main mountain town of Imlil while traveling on their own in the area. We never felt afraid while with our guide and we saw much, much more than we ever could have on our own. We were also spoiled with three hot and terrific meals each day, great scenery and the chance to meet many local people.
Recreational hiking is still relatively new in Morocco but it's such a fascinating, inexpensive and accessible place that it's likely to become a much more popular destination. There is a wide range of possible trips. We took a short and easy trip on old dirt paths, topping out at 6,000 feet. It's possible to venture much higher and on more difficult trips as well. While wading through throngs in Marrakesh, Morocco does not seem remote and undiscovered. But the many mountain paths are not crowded and they yield fascinating discoveries constantly.
Larry Luxenberg is the President of the AT Museum in Pine Grove Furnace, Pennsylvania