Friday, July 22nd to Sunday, July 24th, 2022
On July 22-24, a group of Maine IAT board, staff, and friends braved the heat for a few days of trail work.  The biggest item on the agenda was finding an alternate route for a section of the US/Canada border trail that has been flooded by beaver ponds in recent years. There was also work to be done at and around the lean-tos on Mars Hill and at Roach Farm in Merrill
The border beaver ponds have been an increasing problem for hikers, as they have grown considerably in the past few years. Those beavers have been busy! There are two main ponds created by the dams that are located right over the trail along with lots of boggy ground surrounding them. Some adventurous through hikers have just gone straight through the ponds. But with the water sometime reaching chest-deep levels, it's not a pleasant hike.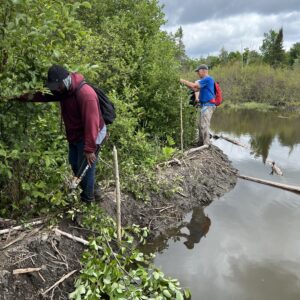 On Friday a group that included Don Hudson, Chunzeng Wang, Bill Duffy, Amy Barker, Eric Hendrickson, and Preston Bass set off to find a way around the ponds. After much bushwhacking, wading through ponds, streams and bogs, too many deer flies to count, and a slippery walk along the edge of the dam, a tentative route was found. Temps were high, bugs were biting, but it was a good day's work.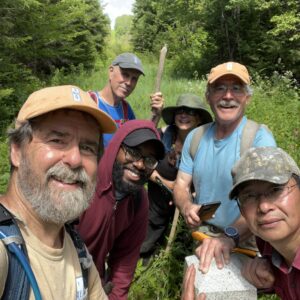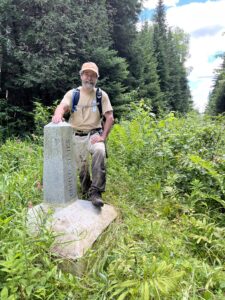 On Saturday, Don Hudson, Bill Duffy, and Amy Barker went back to finish the job. More bugs, heat, and mud! Thanks to some quick mapping work the night before by Bill and Chunzeng, the team had an overlay of the path walked the day before with more detailed topographic information to help find a route that stayed on "high-ground" as much as feasible. The topo info combined with a lucky break of finding an old woods road, made it possible to complete the "Border Beaver Bog Bypass Trail".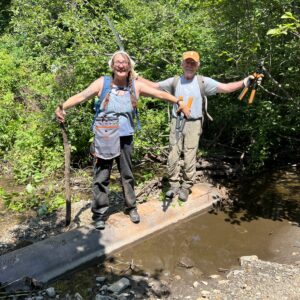 While that crew was busy at the border, Elaine and Eric Hendrickson were busy on Mars Hill. They cleaned up the fire pit near the shelter on the top of the mountain, tidied up the shelter itself, cleared a lot of brush and opened up the view from the shelter, and laid the groundwork for Sunday.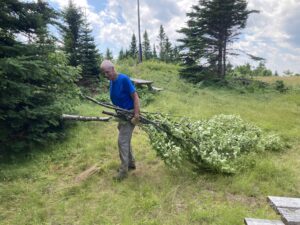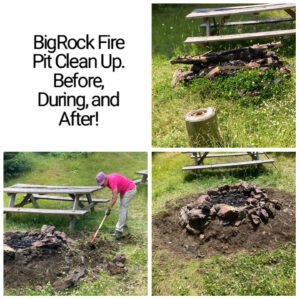 That night, Bill Duffy and Amy Barker drove to Smyrna and stayed at The Brookside Inn, right on the IAT. Hot showers and air conditioning never felt so good! They were up and out the door bright and early on Sunday to beat the heat.  
The task for Sunday was for Bill and Amy to get the Roach Farm Lean-to up off the ground and onto cinderblocks. Built in 1996, the lean-to's original field stone "foundation" had slowly settled into the fertile Aroostook County soil. It would have been quite a task for two people, but with the help of two bottle jacks, a lot of blocking, and persistence, the shelter was raised. Some brush clearing around the fire pit, tidying up in and around the shelter, and a quick clean of the outhouse means the shelter is ready for the next set of hikers.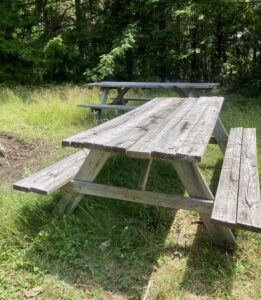 At the same time, Elaine and Eric Hendrickson were back at it on Mars Hill where Eric disassembled one of the old picnic tables, and repaired the newer ones. He also created a bench out of a rickety old table, while Elaine cleared brush and cleaned the outhouse. The area looks great! 
There is still more work to be done at Roach Farm. The roof needs a repair and the picnic table definitely needs work, but that will wait for another trail work weekend. (Perhaps when the temperatures aren't quite so high!) All in all, it was a very successful weekend, and the team got a lot done. Thanks to all the helpers who are making the trail a better place. If you are interested in helping on a future please email coordinator@maineiat.org or visit this page: https://maineiat.org/get-involved/trail-crew/